Sketched in caricature…
Over the years there have been some amusing caricatures sketched of Maria Esther Bueno, the most recent of which is one created by a friend and colleague, Leandro Capanema, Marketing Specialist at Pirelli, who presented it to her last week in Sao Paulo.
"I think he's done a great job!" said Maria Esther.
"There have been some in the past I haven't been too fond of but they are all mostly great fun."
"Leandro is very talented. He has done a lot of caricatures over the years and he did one of Flavia Pennetta and Fabio Fognini during the Rio Open, which he gave them in a frame and they were really thrilled.
"They were drawn in a heart with the Cristo [Christ The Redeemer statue], which Pirelli arranged for them to visit, in the background, and I think it was a very special momento for them.
"He promised to do one for me and I'd forgotten about it until he gave it to me at the reception last week.
"I also was very thrilled!"
Leandro was an important member of the team promoting Pirelli's renovation of the famous statue and posted an amazing video on YouTube in January that demonstrates the impact Christ The Redeemer has over visitors.
---
The Art of Caricature
A caricature is a rendered image showing the features of its subject in a simplified or exaggerated way through sketching, pencil strokes or  through other artistic drawings, often exaggerating some characteristics and oversimplifying others.
Maria Esther has been lucky in that most of the drawings of her over the years are complimentary!
Right from the start of Maria Esther's illustrious international career, artists have been drawing her.
Dubbed 'The Ballerina', this caricature, which hangs on the wall in Maria Esther's home in Brazil, was published in the newspaper 'O Estado de São Paulo'.
Note the ballet shoes!
It was published after she defeated Shirley Bloomer in the semi-finals of the Italian Championships in Rome  in 1958.
She went on to win the title and caused quite a stir.
In 1959 she was featured as an artist's rendition rather than a caricature in a picture that was distributed worldwide.
Drawn on Postage Stamp
A postage stamp was issued to celebrate Maria Esther's first Wimbledon singles title and the first day cover also features a drawing of her.
The airmail stamp also is an etched drawing.
This slideshow requires JavaScript.
An interesting pendant, clearly sponsored by Martini, also shows tee-total Maria Esther wearing the dress she wore for the Wimbledon final in 1959 and holding the world-famous trophy.
She has since been drawn by various artists over the years.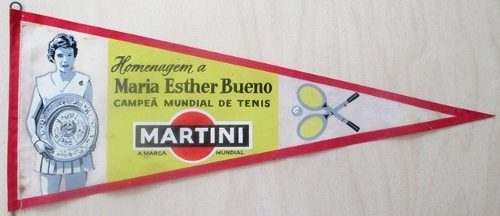 Later Depictions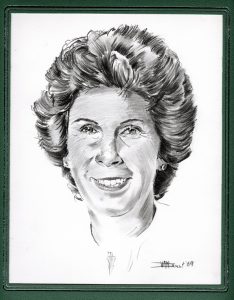 In 1989 she was depicted by an artist in Florida, who gave her the portrait. The picture is signed VAN Andt '89.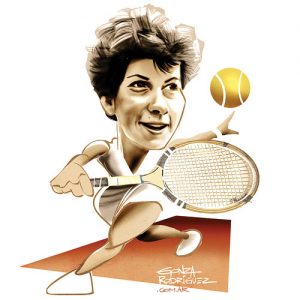 A fun action, undated, caricature is more recent and is signed Esponza Rodriguez.
Internet research into both of these has turned up little information on these artists but we do have some details on one that appeared six   years ago.
Cristiano Siqueira was invited by the Brazilian ESPN Magazine to create a series of 18 portraits of historical Brazilian sports personalities for their 1st anniversary edition, released in November 2010.
This special issue featured the top 50 most important Brazilian sporting stars in history.
"I had the pleasure to draw portraits of some great Brazilian idols such Ayrton Senna (F-1 driver), Ronaldo, Ronaldinho and Romario (football players) Cesar Cielo (olympic champion and recordist of swimming), Maurren Maggi (olympic champion of Long Jump) among others, [Including Maria Esther Bueno (tennis world champion0}" Siqueira writes online.
"All these portraits were done in vector, in Adobe Illustrator, using various photography sources as references.
"I worked a technique of vector where I draw a very detailed linework, trying to capture all the facial features and making the basic shading using lines, then I apply bright colours, with a simple shading and reflections.
"The result is an organic look, different from the usual vector art style."
So the latest rendition joins a veritable gallery of drawn images that have appeared over the years.
---
Other Zany images
Recently a fascinating feature appeared on terra.com on 'Controversial Tennis Players'.
Maria Esther was listed at No 35 wearing a dress that Ted Tinling designed to be worn for promotional purposes only.
"I never wore that dress for a match," Maria Esther confirms.
"It was for the fashion show Ted did ahead of Wimbledon one year and I think I may have worn it for Lady Crossfield's Garden Party exhibition match."
The website article reads:  "Maria Esther Bueno is the greatest Brazilian tennis player of all time. But she is a lot more than that. Maria Bueno, as 'Esther' is known outside of Brazil, was elegant and artistic, preferring style to winning. She was loved to the point of being compared to Suzanne Lenglen and the Australian Evonne Goolagong, who were among the flashier style of tennis players in history. She added seven major titles in singles [and a doubles] Grand Slam to her name.
"But Maria Esther was more than a great tennis player, she had a strong personality and striking looks.
"The controversy In 1962 was the unforgettable gown that the designer Ted Tinling designed for Brazilian Maria Esther Bueno [which] proved too provocative for Wimbledon.
"The dress, which caused quite a stir in the audience of the conservative British tournament, had coloured petals of roses in the shape of a diamond drawn in the Brazilian's skirt lining.
"Innovation appeared as the tennis player moved and [the skirt] raised. The shocking pink of Maria Esther gave to talk."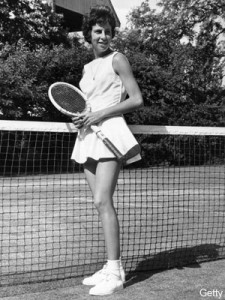 Maria Esther commented: "They've actually got two incidents mixed up!
"I did wear the dress in the picture, as I said, but not at Wimbledon. That was a different one entirely and it was all-white, with a shocking pink lining.
"In fact, I still have that dress.
"When I served for the first time on Centre Court, the spectators behind me gasped when they saw the colour as the skirt lifted. The other end wondered why, until I got there and served, then they realised!
"I also wore panties of the same colour. Everyone was shocked!
"Later I wore panties that resembled the club colours, which outraged the club committee so much that they brought in the all-white clothing rule!"
The exhibition dress in the picture introduced Tinling's 1966 Tennis collection in 'Dacron'.
Tinling used fabrics made from ground-breaking 'Dacron' polyester fibre for his Wimbledon tennis dresses and some of the leading international tennis stars displayed some of the styles he created specially for them.
That particular photo was shot on the roof of Derry and Toms department store in Kensington in London and featured "Maria Bueno, of Brazil, wearing a flared skinner 'Dacron' and cotton dress with midriff and hem in clear P.V.C."
Each year Tinling held his pre-wimbledon preview of the fashions players would be wearing.
The press reported: "The shocking pink ensemble was created in 1962 when Tinling's designs for Maria Esther proved too provocative to escape censure. Bueno's Wimbledon costumes were enhanced with coloured diamond-shaped petals, which appeared in a sunburst pattern on her skirt lining and across  her panties.
"One costume came suspiciously close to the official tournament colours and Bueno's semi-final match was  lost amidst outbursts of temper and flashes of hot pink.
"The committee closed ranks and banned colour."
A rule that remains in place until this day and is rigorously enforced!
---
Gallery
This slideshow requires JavaScript.