Back to > The Crowning Glory
1965 to 1993

Returning to Melbourne after an absence of some five years, Maria was increasingly aware that her left  knee was growing ever more painful. In the final of the Australian 1965 final it led to severe cramp which, in turn caused further damage and forced her to default when Margaret was leading 5-7 6-4 5-2 in their final.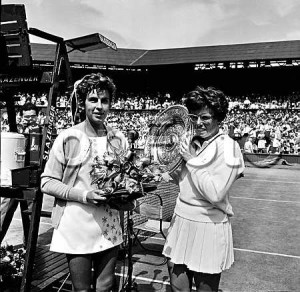 She reached the final at Wimbledon but her hesitant volleying told of a deep seated anxiety, and after losing to Billie Jean Moffitt in the American semi-finals, it was no longer possible to ignore the need for surgery.
Knee Surgery
Just before Christmas that year Maria entered the Don Pedro II Hospital in Sâo Paulo where João Di  Vicenzo, one of Brazil's leading orthopaedic surgeons, took 140 minutes to remove two menisci from her left knee.
The operation needed three incisions, which took 40 stitches to pull together. Bed-ridden and frustrated, it took four months before Maria could get near a tennis court again.
Determined not to waste time, she checked herself out of hospital early against the advice of her physiotherapists and set about her own rehabilitation.
She made it back to Paris where she lost to Ann Jones, anxiety about her knee and lack of sleep contributing to her ill-ease.
She had lost 20 lbs and looked tired and drawn from her long ordeal.
More setbacks
Another loss at Beckenham after a severe attack of colic resulting from gall stones was another set-back but she  nevertheless reached the final at Wimbledon where lack of physical power and confidence left her vulnerable to the persistent attacks of Billie Jean King.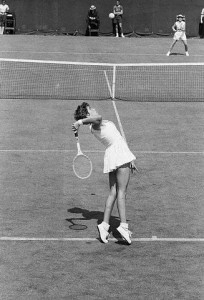 Maria, however, now growing in strength and form, was successful at Forest Hills where she romped through the singles, beating Nancy Richey in a one-sided final.
But with Margaret Smith Court now in Perth and virtually retired, Maria began feeling that some of the challenge had gone out of the game.
Additionally her playing elbow began giving trouble.
The strain of playing in three events a  week during a schedule that kept her on the road for nearly 52 weeks in the year was beginning to tell.
Tennis elbow
A wet Wimbledon in 1967 that demanded Maria  played matches back to back and a total of 120 games in just one day destroyed the arm and caused her to later withdraw from Forest Hills.
Although the fundamental physical damage had been done, she continued to play for another season with some considerable success.
Ironically, she was stopped at the 1968 Wimbledon in the quarters by Nancy Richey while suffering from a bad leg but went on to New York to defeat Margaret Court in three sets in the quarter-finals before losing to King by a similar score.
She claimed her final Grand Slam title by winning the doubles with Court, beating the top seeded pair of King and Casals  4-6 9-7 8-6. It was her fifth US doubles crown.
Early retirement
Maria was finally forced to retire in early 1969 during the Caribbean Circuit in Caracas when she was unable to use her  playing arm even to pick up a glass.
Doctors told her the damage was so severe she would never play again. This was Maria's darkest hour. Destroyed at having to give up the game she  loved, she sought help from every possible source.
Several operations virtually rebuilt her arm and shoulder and it is a credit to her strength of resolve that  she rehabilitated herself for a third time over a long and difficult seven years of recovery.
This courage in the face of adversity is the mettle of which such heroes and heroines are made.
For such a great champion to have been felled at the height of her career on the eve of Open Tennis was a tragedy in itself, but to have to endure indescribable pain as part of her everyday life was further cruelty.
Comeback against the odds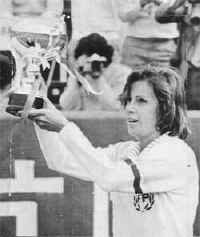 Nevertheless, Maria proved the medics wrong and made a remarkable come-back in the mid seventies, winning the Japan Open and her biggest pay-check of $6,000 in 1974, and once again gracing Wimbledon in 1976 and 1977.
Her popularity was as great as ever but her adoring public had  little idea of the sacrifices she was making to play again in the one place she loved the most – the Centre Court.
Having to restrict her play to just one hour a day to help save the arm, and with the aid of Cortisone injections to reduce the inflammation, Maria made it through the draw to meet Sue Barker in the quarter-finals.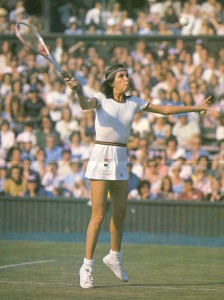 It was a nostalgic match that started with Maria dominating to win the first set with the style which her many fans had so admired.
Sue's fight-back to snatch the second took the match well beyond the hour Maria needed to complete the proceedings and, with each passing minute, the Champion's chances of securing the win, or even being able to play the following day diminished.
After that loss Maria decided that she could not continue to pursue a singles career to the heights she sought without placing herself at risk.
She had proved her point, mostly to herself, and had already in a sense succeeded against the odds.
She made further appearances in the doubles, playing her last open event at Wimbledon in 1980.
Enticed back
Maria was enticed out of her early retirement in 1984 by Philippe Chatrier, long time friend and President of the International Tennis Federation, when he invited her to serve on the Honorary Committee of the Federation Cup that was held in Sâo Paulo that year.
It was the beginning of an association with the ITF that saw her act as Ambassador to the Sport Goofy World Championships for Players Aged 14, 12 and Under, and as a Consultant to the South American women's tennis development programme.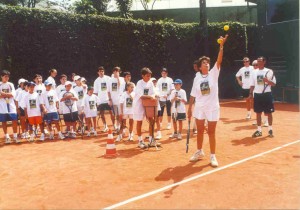 Both these areas utilised her exceptional skills with children and young people which marked her return to the tennis world.
She also assisted the Women's Tennis  Association with their player education seminars.
In the late eighties and early nineties Maria competed again, this time round in the senior events held at Wimbledon, the US Open and the Virginia Slims Championships at Madison Square Garden.
She reached the finals of the senior mixed doubles played on the Armstrong Stadium court at Flushing Meadow in 1991 and played her last competitive match there in 1993.
Throughout this period, Maria continued to develop new skills by making personal appearances both on and off the court.
She began to give demonstrations of her unique and classic style of tennis, run successful teaching clinics around the world as well as making after-dinner speeches, and doing television and radio commentaries.
For more >
Retirement and Beyond