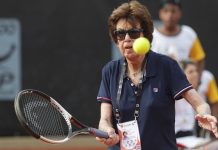 Wins Brasil Open…
Maria Esther Bueno has always thought that Fabio Fognini is a remarkably talented player and by winning the Brasil Open in São Paulo over the weekend, he just proved her point.
"He is such a nice guy but turns into a devil on the court at times, and that holds him back," she told her website as the 250 ATP tournament concluded the Golden Swing in Brazil.
"I was very pleased to see Fabio do so well, and delighted that Nicolás Jarry, a young Chilean who seems to have come out of no-where, coming good.
"He had a good run last week in Rio and went one better here in São Paulo by getting to the final!
"He is the grandson of Jaime Fillol, who played during my times and is a good friend.
"I met Nicolás' brother and mother, who is Jaime's oldest daughter, in Rio and it was great fun spending time with them because they are such a nice family."
Jaime Fillol played in the 1960s and 1970s and was ranked as high as World No 14 in singles on the ATP Rankings and No 82 in doubles.
He won 7 singles titles and 15 doubles titles and represented Chile in the Davis Cup, competing at the 1973 Davis Cup with Patricio Cornejo where he played the longest Davis Cup rubber in terms of games, eventually losing to Americans Stan Smith and Erik Van Dillen, winning the first set 9–7, the next 39–37, but then lost the next three sets, 6–8 1–6 3–6 in the 1973 American Zone Final.
The second set is the world record for the most number of games in a Davis Cup set.
He was also a member of the 1975 Davis Cup team, which advanced to the semi-finals, and the 1976 Davis Cup team, which made it all the way to the final, losing to Italy.
In addition Jaime was a founding member and one of the first ATP Presidents.
In São Paulo, his grandson, Jarry, came from a set behind to defeat top-seed Albert Ramos-Vinolas of Spain to book his place in the semi-finals, 6-7(8) 6-4 7-6, and then took out Argentina's Horacio Zeballos, 6-7(5) 6-4 6-4.
"Fognini ended Pablo Cuevas' 15-match winning run here in Sao Paulo to secure his place in the Brasil Open final against Jarry," said Maria Esther. "Beating him in straight sets to reach the final."
For a while, in the final, it looked like Jarry would be the one lifting the trophy as the Chilean seemed to be in complete control of the match in the early going, rocketing forehands in every direction to Fognini's dismay.
The 22-year-old won the first 13 points of the Brasil Open final, using his thunderous forehand to race to a one-set lead against Fognini in just 22 minutes.
"Nicolás then missed a forehand on break point in the first game of the second set, and the momentum shifted," observed Maria Esther.
"That comes down to experience and the ability to keep focus, but he fought well as Fognini started to put more balls in play."
Fognini raised his level, causing the Chilean to make more unforced errors and forcing Jarry to back off.
The Italian dug into the red clay of São Paulo, finding his game to defeat Jarry 1-6 6-1 6-4 in one hour, 33 minutes for his first title since 2017, which was in Gstaad, and his sixth trophy overall.
The 30-year-old is now 6-9 in ATP World Tour finals, with all six of his triumphs coming on clay.
"I think he started very well, getting very strong, with the new balls," Fognini said.
"He had nothing to lose. Even though I lost the first set easily, I kept fighting and this was important, because it was a final."
Fognini will use the 250 points he earned to rise to the World No 19 and takes home $92,085 in prize money.
"I'm happy because I played good tennis. Everyone who works with me and my family knows how difficult it is to win a title," Fognini admitted.
"I lost much more finals than I won. So I have to enjoy it, because it's part of the sport, I have to keep working."
Jarry was attempting to become the first Chilean to capture an ATP World Tour title since Fernando Gonzalez at 2009 Vina del Mar.
Prior to February, he had never reached a tour-level quarter-final but since, he advanced to his first quarter-final in Quito, his maiden semi-final in Rio de Janeiro, and his first final in São Paulo.
"I always work to reach higher and higher, to be the best version of myself," Jarry said.
"Now I am getting good results. I hope to keep going up. I think I can give more, much more. I made some mistakes during the tournament, but moving forward, I'll try to minimise this and try to win my first ATP [World Tour] title."
He is hoping that the Challenger days are now behind him.
"Now everything will change as I will be playing against the best players in the world for the rest of the year," Jarry said after losing to Fognini.
"It will be interesting to see how Jarry does over the coming months," said Maria Esther. "We'll see if he can build on this success and challenge the better players on the tour.
"I think he should do well on the European clay court swing as this seems to suit his game best.
"As for Fabio, at the age of 30 he is showing no signs of retiring, which is good news because he is a real entertainer.
"He has had his ups and downs as result of his feisty temperament but when he focuses, he is a really good player. Let's hope he can keep it going over the coming months."
The fiery Fognini was handed a fine of almost $100,000 and a provisional ban from two Grand Slams after calling insulting a female chair umpire at last year's US Open.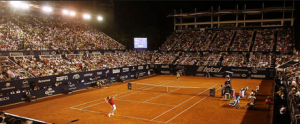 "By all accounts the Brazil Open continues to grow, as it has been after moving here to São Paulo in 2012," said Maria Esther.
"It was for 11 years in Costa do Sauipe,  and has been won by top players on the ATP World Tour, including Rafa Nadal and Guga Kuerten.
"What I really love is the ball dogs!
"They do these demonstrations using rescue dogs to pick up the balls and they are really great. It's a lot of fun.
"It is a way to promote finding these stray street dogs new homes and everybody loves it! Many of them do find homes too.
"So this week ends the South American swing and attention turns to the hard courts of North America, particularly Indian Wells and Miami.
"It is worrying that the top players like Rafa, [Stan] Wawrinka and [Novak] Djokovic are not yet fully recovered from their injuries.
"It seems that Roger [Federer] will be able to hang on to his No 1 ranking at Indian Wells after Rafa pulled out of there and Miami because of his hip.
"So has Wawrinka, but we might see Djokovic back in action in Indian Wells.
"The good news is that there are reports that Andy Murray's rehab after his hip surgery is going well and we may be seeing him back earlier than expected.
"He was aiming for the grass court season but it seems there is a chance he will play a challenger in England during the second of week of Paris to ease himself back into match play.
"He certainly would not want to start his comeback on clay at Roland Garros so it sounds like a good idea.
"He has just lost his British No 1 spot after 12 years to Kyle Edmund because his ranking has dropped so much since Wimbledon 2017 so he will have plenty of incentive to get back on top again.
"We wish him well."
The BNP Paribas Open at Indian Wells, which starts this week, is the largest two-week combined ATP World Tour Masters 1000 and WTA Premier professional tennis tournament in the world.
It features the top men and women professional players competing in a 96 singles draw and 32 doubles draw, and offering more than $10 million in prize money.
"With Victoria Azarenka relying on a wildcard for main-draw entry, and fellow multi-Slam titlists Serena Williams [now unranked] and Maria Sharapova [No 41] coming in with unsurprisingly low rankings, you just know things will get interesting," reflects Maria Esther.
"Simona Halep and Caroline Wozniacki are the top seeds so those players are going to be dangerous floaters as they could turn up anywhere in the draw!
"As for the men, the draw hasn't been made yet but Roger Federer heads the line-up and must be the favourite now as the current World No 1."
---