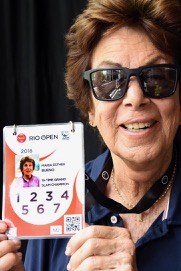 Maria Esther Bueno spent last week working at the Rio Open presented by Claro, the first ATP World Tour 500 tournament in Brazilian history and one of the few played on clay, along with Barcelona and Hamburg, that proved to be full of surprises.
"It really doesn't feel like work," Maria Esther told her website.
"For me it is a pleasure to come here, to be among so many friends, and to help out a bit!
"It's also fun – they even made me my own coffee mug!"
---
On court…
The week tends to provide many surprises, both on and off the court.
"We had Marin Cilic as the top seed and he was beaten by Gael Monfils in the second round in a match that was held over because of an incredible storm on Tuesday night.
"We had to be rescued from the TV tower, which is very high up and exposed, so it was all very dramatic!
"I must pay tribute to the maintenance staff and organisers, who had to deal with a very difficult situation but managed to get the courts and grounds back perfectly for the next day's play. They did an incredible job!"
This slideshow requires JavaScript.
In addition to the matches and practice sessions on the nine clay courts, including the 6,200-seat stadium, there is Leblon Boulevard, an avenue of temporary stands, stores and food courts for the spectators.
"When they came back on Wednesday to play the tiebreak, Monfils won but then he lost to the eventual winner Diego [Schwartzman]."
The defending champion Dominic Thiem made it through to the third round where he lost to Ferando Verdasco, the runner-up.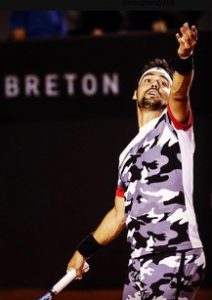 "Verdasco is always dangerous on clay," observed Maria Esther. "He won in three against both [Leonardo] Mayer and [Nicolas] Kicker and then played Fabio Fognini.
"I am always amazed at Fognini, who is so talented and can play perfect tennis. In fact probably the best match of the tournament was his match against Tennys Sandgren, which he won in the third set tiebreak, and he was very convincing against Aljaz Bedene but against Verdasco, he was poor.
"He blows so hot and cold, you never know what to expect. He is also very temperamental and puts blame onto everything around him, frustrated, I suppose.
"The real surprise was Nicolas Jarry, the young Chilean, who made it to the semis, beating [Albert] Ramos-Vinolas and [Pablo] Cuevas on the way."
This slideshow requires JavaScript.
At the last it was Diego Schwartzman who ended his two-year wait for his second ATP tour title when he overpowered an exhausted Fernando Verdasco to win the Rio Open.
The Argentine sixth seed was in commanding form, winning 6-2 6-3, against an opponent who appeared to run out of puff after reaching both the singles and doubles finals of the clay-court event.
"I was very patient, solid, intense, I knew he was very tired as he had played both singles and doubles," Schwartzman said of Verdasco, who won the doubles final on Saturday.
"It's been two years since I've won a tournament so I am very happy. It was a perfect week for me."
Schwartzman broke serve three times in the first set as the eight-seeded Spaniard produced a string of unforced errors.
Once Verdasco squandered four break points at 2-2 in the second set, he appeared to wilt under pressure and Schwartzman ran away with the match.
The 25-year-old will enter the world's top 20 for the first time on Monday.
"It was an impressive run for Diego," said Maria Esther. "[But] you have to feel a bit sorry for Ferando, although he did win the doubles with David Marrero.
"Hopes of a Brazilian win faded when both Marcelo Melo and Bruno Soares failed to come through the doubles draw [with their respective partners Lukasz Kubot and Jamie Murray]."
---
Off court…
Outside of the SporTV commentary box, Maria Esther fulfilled a number of appearances, including a clinic for  disabled players and a visit to a social project on the day after the tournament.
"I think it was the first time the Rio Open offered the clinic for disabled tennis players and it was great to meet this group, who were really enjoying the opportunity of playing at the Jockey Club."
This slideshow requires JavaScript.
The Rio Open has supported social initiatives since 2014, believing in the power to transform through the sport.
"They have an stand where you can leave your old tennis rackets, which are then used for the social project," said Maria Esther.
"I had fun walking around and visiting all the stands, particularly my friends at Fila, Rolex and Pirelli, and, of course, there were lots of selfies being taken all over the place!"
As well as her corporate friends, Maria Esther caught up with others, including Guga Kuerten and Andre Sa.
This slideshow requires JavaScript.
It was an emotional week for Sa who, after 21 years as professional player, is retiring from the tour.
The 40-years old doubles specialist was honoured on court on Friday night.
"I am grateful to (Carlos) Kirmayr, the coach that believed in my dream of becoming a tennis player and encouraged me to train in the United States, my wife Fernanda and my daughter Carolina, for dealing with my 30-week trips every year. My parents, who sacrificed their dreams to follow mine, and my brother Vinicius, my biggest fan," he said.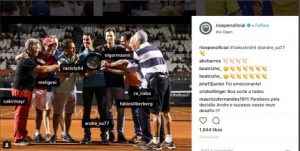 Brazilian former players Joao Soares, Thomaz Koch, Fabio Silberberg, Andre Ghem, Ricardo Acioly, Fernando Meligeni, Carlos Kirmayr and Nelson Aerts attended the ceremony.
Sa is already coaching Thomaz Bellucci and plays his last tournament in São Paulo this week.
He has also been appointed an ITF player relations consultant.
"Andre fully deserves all the recognition he has received," said Maria Esther. "It looks like he will be keeping pretty busy though."
Sa reached World No 55 in the singles rankings and No 17 in doubles, winning 11 doubles and reaching 30 finals.
At Wimbledon, his favourite tournament, he reached quarter-finals in singles in 2009 and in doubles made the semi-final in 2017, playing with Marcelo Melo.
As part of the Brazilian team, Sa played 20 Davis Cup ties, including the campaign to 2000 semi-final, and four Olympic Games.
"The Rio Open is an event that everyone seems to really enjoy and they do everything with class and distinction," observes Maria Esther. "It is also very tiring because of the layout and the distances that you need to cover, plus playing on clay in very hot and humid conditions is a tough challenge for all the players as well as everyone else.
"Luckily the organisers provide a very comfortable lounge for the players where it is possible to sneak a nap or two between assignments! I woke up a couple of times in very good company!" she laughs.
After the finals on Sunday, the crew got together for a group photo on the centre court in celebration of a job well done.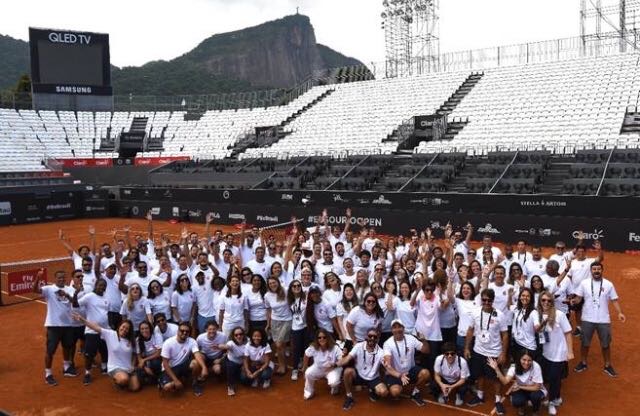 "I have known them all for over four years now," said Maria Esther. "We've worked the Rio Open and the Olympics together so we all know each other well. They take such good care of me on site and are so friendly that I was happy to participate a little in their fun."
The biggest tournament in South America, which attracted 45,000 spectators in 2017 at the Jockey Club Brasileiro, is over for another year and looks to have matched or even bettered that record.
For Maria Esther, before she flew home to Sao Paulo to observe the Brazilian Open, it was a visit to a nearby favela with Votornatin Bank for an appearance for the Foundation of Flavio Canto who are running the social projects clinic there.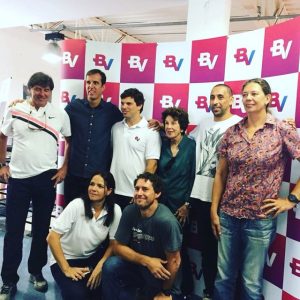 "These are dangerous places and were driven in by armoured car with heavy security," she said. " But you can see how appreciated the whole project is in the faces of the kids participating in the clinics.
"Through tennis, social change is possible and there are many good people working on making this happen.
"I really admire them."
---