The tour moves on
The final of the Rio Open proved to be a tough two-setter and a great win for Dominic Thiem, but he came away happy after beating Pablo Carreno Busta in the final.
Maria Esther Bueno was on hand to see the Austrian add to his tally of 8 ATP Tour titles and collect 500 points in the Rankings.
"He is a very exciting player, just 23 years old and well established already in the top 10," she said. "He has been as high as 6 and is now 9th, I think.
"I like the way he plays because he builds points and isn't afraid to come to the net.
"He is especially good on clay and admits his main goal is to win Paris."
Thiem claimed his 7-5 6-4 victory over the Spaniard after Busta went ahead in the first set by securing a break to lead 3-2 before the Austrian broke back and went on to take the set.
---
This slideshow requires JavaScript.
---
[All images courtesy of Rio Open]
Although, the momentum was with the World No 8, the second set was also a tight affair.
He broke when it really mattered and took the match to win the Rio Open without dropping a single set in all 5 matches he played there.
Busta had won the doubles title on Saturday with teammate Pablo Cuevas.
Thiem and Carreno Busta had vastly different paths to Sunday's championship final.
In Saturday's semi-finals, Carreno Busta survived a gruelling match against 18-year-old Norwegian wunderkind, Casper Ruud, storming back from a set down to prevail 2-6 7-5 6-0, while Thiem barely broke a sweat making quick work of Albert Ramos-Vinolas, 6-1 6-4.
The second-seeded Thiem became the favourite for the title after top-seeded Kei Nishikori, the world's fifth-ranked player, was knocked out in the first round in the upset of the tournament, by Brazil's Thomaz Bellucci, the 76th-ranked player in the world.
"I am feeling really great', a satisfied Thiem said later.
"This is the best feeling you can have, winning a title. It's all you practise for. I played five very good matches, especially in the semis and final against amazing players."
So the Rio Open makes way for the Brasil Open in Sao Paolo this week, a 250 ATP Tour event that completes the South American swing which started in Buenos Aires.
---
A great event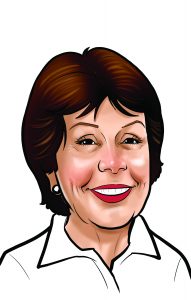 "The Rio Open is the big one," said Maria Esther. "They do such a good job at the Jockey Club. Everyone has a good time.
"They played a good joke on me too, the media. They put a photo of me wearing a crown on social media!
"They also did these amazing caricatures of the players and the one they did of me landed up as a luggage tag! I can't say I have ever had one those before!"
Maria Esther had a busy week, commentating and making personal appearances. She also did several live interviews for the media.
"I'd like to congratulate Luis [Carvalho – Tournament Director] and his team for putting on such an amazing event and for taking such good care of me.
"There are huge crowds there [on the grounds] and there is a lot of distance to cover so they give me a golf cart and a team of security guards who get me through and to wherever I have to be on time. I really appreciate all their help and that of the drivers and other volunteers too.
"It's a great event!"
---
But doubts over Buenos Aires
While attendance has been good in Rio, Buenos Aires apparently suffered its worst gate since 2000 when it was a Challenger event before entering in the ATP Calendar, with 34,171 people attending throughout the week.
"We hear there are question marks on the future of Buenos Aires, with maybe a change of date or even surface.
"They are also thinking about switching from clay to hard-court, which may attract more top players to play."
This year the only top 10 player was a top star like Kei Nishikori, but who in Argentina isn't as popular as Rafael Nadal, who had played in 2015 and 2016 bringing positive earnings to the tournament.
According to reports, one of the first goals for next year, said the owner of the event Miguel Nido, will be right to have Nadal in Argentina again.
"The South American swing is important for tennis in Latin America," concludes Maria Esther. "Let's hope they can work things out."
And so it is back to Sao Paolo for Maria Esther Bueno with, no doubt, another busy week for her ahead.
---