Bueno back in London…
Maria Esther Bueno arrived in London a few weeks ago and has been preparing for The Championships at Wimbledon where she will be working, once again, for TV Globo / SporTV.
Before it begins, however, she enjoyed a day in the President's Box as a guest of The Queen's Club.
"It was a great day and we were lucky that the temperatures had dropped from the 34.5 degrees we had on the Wednesday… that is very hot for London!" she told her website.
"It was still a rather humid but not blazing hot so we were quite comfortable watching the matches."
Queen's proved to be a big surprise for everyone, with the loss of top-seeded Andy Murray in his opening round match on the Tuesday.
"Andy followed a procession of seeds out of the tournament, including Milos Raonic and Stan Wawrinka," she said.
"I think the organisers were disappointed because they had an incredible line-up and then Rafa [Nadal] withdrew before the tournament began, and then this.
"In the end they had probably one of the best finals for years, with Feliciano Lopez beating Marin Cilic ina really thrilling three-set match, so it all worked out well in the end.
"It was a popular win and amazing because Feliciano is 35 years old and was unseeded!
"It just shows how unpredictable tennis can be."
Former champion Rafael Nadal withdrew from the Aegon Championships at Queen's Club after being advised to rest by his doctor.
The 31-year-old Spaniard, who won a record 10th French Open in Paris, said he had had a long clay court season.
"My body needs to rest if I am going to be ready to play Wimbledon," said World No 2 Nadal, Wimbledon champion in 2008 and 2010.
Maria Esther was delighted that Rafa won his 10th Roland Garros title.
"It is quite incredible that he could come back from injury, loss of confidence and everything, to win Paris for a tenth time, and he didn't even drop a set," she said.
"He lost only 35 games in the six rounds he played over the two weeks, which is just amazing on clay.
"I think they are going to put up a statue in his honour at Roland Garros. I hope they do."
---
Presenting the prizes
Maria had another, quite contrasting commitment on Saturday presenting the prizes for the Club Tournament at Woodfield Grove Tennis Club in Streatham, south London.
"I usually find myself doing this the week after Wimbledon after sitting in the Royal Box for the finals, which is always a bit of a contrast, but they have moved it to before The Championships this year – Probably a better way round!
"I have been an Honorary Member of the club for many years and often play there with the pros so I am very happy to help out with the presentation.
"This year they had a surprise for the Chairman and the finals got interrupted so he could receive a special award."
This slideshow requires JavaScript.
Peter Risdon, The Chairman of Woodfield Grove Tennis Club, was honoured with the prestigious Tennis Surrey Meritorious Award and presented with a magnificent glass decanter.
It was a great surprise to him and he had no inkling that arrangements were being made to include members of his family and close friends as well as club members to be present for the occasion.
"It was nice to see Peter acknowledged for the amazing work he has done for the club over so many years," said Maria Esther. "He really deserves it.
"He was actually speechless that they had managed to keep a secret from him, and a bit at a loss for words!"
---
Visiting her clubs
A return to London means re-visiting her various clubs.
In addition to Woodfield Grove, Maria Esther had a hot with Johnny Delgado indoors at Wimbledon.
"Everyone was out on the grass and we were playing on the carpet," she laughed.
"I had just about stepped off the plane so the more consistent surface was better for me but I think Johnny though it was a bit strange!
"I love going back to Wimbledon. I can't believe how calm the place is ahead of The Championships. There's no sign of all the building works they have been doing and everyone knows exactly what they are doing.
"They've been doing it for a while, I suppose."
Maria Esther also has been hitting at Beckenham with Peter Kiss, one of the pros there.
"We started off on the clay and then switched to the acrylic [courts] and have hardly missed a ball since!"
At Woodfield Grove she has been hitting with Lucia Sariscanova and Josue Madera Valles.
"Josue used to be a pro there but has switched careers and is now a psychologist but he enjoyed the club so much that he joined as a member and this year won all three titles – singles, doubles and mixed.
"He is thrilled to get his name onto the honours board, which I can fully understand!
---
The Championships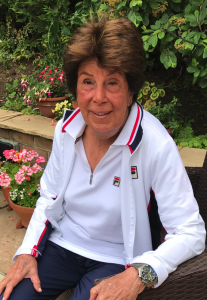 With thoughts turning to Wimbledon, Maria Esther gives some thoughts on the early rounds of The Championships.
The quartet of Murray, Djokovic, Nadal and Federer – now all in their 30s – have won the last 14 Wimbledons between them, but with no outstanding candidate, the door is wide open for a younger player to break through and claim a first Grand Slam title this time around.
"There is a lot of speculation on whether Andy Murray will be fit enough to compete," she comments.
"He is the reigning Wimbledon champion and the World No 1 so it would be a huge loss not to have him there this year."
This slideshow requires JavaScript.
"Amazingly, the big four have all been fighting injuries but the resurgence of Roger [Federer] and Rafa [Nadal] puts them both as real contenders for the title.
"Novak [Djokovic] has had a bad time of it of late and has dropped to No 4 but he made an interesting decision to play at Eastbourne in a 250 ATP tour event where he has got some valuable grass court play.
"Murray's loss at Queen's really hurt his preparations and he then pulled out of exhibition matches at Hurlingham with a hip injury so he has hardly played at all on grass but Wimbledon is very special to him, if he can get fit.
"Roger did not play on the clay so is fresh but his start on grass was stopped in Stuttgart when he lost to Tommy Haas in the first round, but he made up for it in Halle where he won a record ninth title so I'm sure he is feeling pretty good right now.
"Rafa hasn't played any matches on grass but you can never count him out… look what he did on clay when everyone had written him off!
"As for Stan [Wawrinka], he is ranked No 3 but seems to struggling on the grass after making it through to the final in Paris on clay but, again, he can find his form and be a real contender."
Nadal has, in fact, has been practising at full throttle in the build up to Wimbledon.
"In 2014 I made the fourth round and it was my best year since reaching the final in 2011," Nadal says on ATPWorldTour.com.
"Since then I've had many problems with my knees. In 2012 and 2013 it was really bad and then in 2015, my knees were fine, but I felt bad for many other reasons. Last year unfortunately I broke my wrist right before Wimbledon.
"It's been a few years that I haven't been able to compete well and that is a disadvantage compared to those who arrive here having done well year after year."
To give himself the best possible preparation for Wimbledon, Nadal trained for a week in Mallorca and then doubled the intensity of his sessions in London, where he arrived on Monday.
"I think he has a real shot at the title this year, especially after resting after Paris," adds Maria Esther.
As for outsiders, she sees a lot of talent around.
"Dominic Thiem was in Brazil and won the Rio Open, which really impressed us," she said.
"Since then he has been playing really well – he beat [Andy] Murray in Barcelona, lost to Rafa in the final in Madrid and to Djokovic in Rome and then beat Djokovic in Paris before losing to Rafa in the semis.
"He has switched to grass pretty well, losing in the last 16 in Halle so has to be in the mix for Wimbledon.
"There are also other so-called young guns around, like Nick Kyrgios, Alexander Zverev, Grigor Dimitrov and Lucas Pouille, who can all pull off an upset and might just go all the way.
---
And what about the women?
"Well, that really is a lottery," laughs Maria Esther.
"Who would have thought that an unseeded player from Latvia [Jeļena Ostapenko] would win Paris?
"It just goes to show that the women's game is wide open right now, with Serena [Williams] out [due to pregnancy], no Sharapova and no-one really grabbing the top spot."
Current top seed Angelique Kerber lost in in the 2016 Wimbledon final and will be looking to better that this time, but she has had a poor year so far, recently going out in the first round at the French Open.
Karolina Pliskova reached the final of the 2016 US Open and has a strong all-round game suited to grass but has a poor Wimbledon record, while Petra Kvitova, out of the game after a knife attack last December, has made a steady return.
"Kerber is the World No 1 but she isn't dominating and Simona Halep could well take it from it her over the coming weeks if she can find her form," said Maria Esther.
"Kvitova is the defending champion but she is just back after that awful knife attack and won Birmingham so she could do well if she can get through the two weeks.
"Pliskova made it to the semis in Paris and could well string it together with her big serve but, actually, I think anyone could win the women's title because it really is all about finding a consistent game over the full two weeks and, right now, none of women are showing me they can do that."
This slideshow requires JavaScript.
"For sure it will an interesting two weeks coming up! Let's hope the weather cooperates!"