"This year, Wimbledon seemed to be rather special, perhaps because the players got an extra week to get used to the grass courts or maybe because of the weather! It only rained a bit on the final day!," she commented.
"We had so many close matches and lots of upsets, which always makes Wimbledon all the more interesting.
"At the end it was the two world number ones who came through to take the titles but both [Novak] Djokovic and Serena [Williams] had to fight hard to do so.
"Djokovic pretty much sailed through the draw without dropping a set until he met Kevin Anderson when he stared at defeat. He lost the first two sets on tiebreaks, managed to win the third quite easily and then was lucky to win the fourth to level when the match was suspended due to it getting dark.
"It is very hard to have to come back the next day to play just one set because it can go very wrong, especially against a big server like Anderson, who has been improving every week on the grass. He was a real threat but Djokovic battled as only he seems able to do, and managed to come through 7-5 in the fifth to breath again.
"After that he took care of Marin Cilic in straight sets and although he had a very tough opener against [Richard] Gasquet, he won that too in three to make the final.
"Although Andy Murray dropped sets here and there, to [Andreas] Seppi and [Ivo] Karlovic, he looked in really good form.
"Roger [Federer] also cruised through the draw despite dropping a set to [Samuel] Groth and when he met Murray, he played magical tennis. I have never seen anything like it – serving around 80% first serves and giving Murray very little chance.
"Murray played well, particularly in the rallies, but Federer was unbeatable that day and Andy found it difficult to return his serve. Roger won in three tight sets and we all thought if he could play like that in the final, he would surely win his eighth Wimbledon singles title.
"Murray obviously was very disappointed but he shouldn't be because he played one of the best players of all time on a day when he was almost perfect. Andy tried everything he could to stop Roger but there was no way that day. That's how it goes. He now needs to regroup quickly to lead Great Britain in the Davis Cup against France, which starts on Friday.
"As for the men's final, perhaps Roger peaked too early or maybe Dokovic didn't let him play to that same level but Roger's magic wasn't totally working. He broke in the first set and lost it and somehow managed to win the second set in the tiebreak, but he never really looked like he could overcome Djokovic, who again proved why he is the best in the world right now.
"He deserved to win, and he overcame not only Federer but a Centre Court that was cheering for his opponent throughout. That's not easy! The noise was quite unbelievable at times."
"Serena is a bit like that too. The crowd were so behind the newcomer Garbine Muguruza, who was so clearly the underdog, that it got a bit embarrassing, but Serena fights for every point whatever is thrown at her and sometimes it is not pretty but it is awesome.
"That Muguruza reached the final at all was the surprise of the tournament. She came through the lower half of the draw that was a little light on the big names, but she did beat [Caroline] Wozniacki and [Agnieszka] Radwanska on her way.
"Serena was lucky to escape against Heather Watson and then had to play her sister, Venus, and dropped the first set to [Victoria] Azarenka before winning through.
"She certainly has Maria Sharapova's number because once again she posed little threat on her way to the final.
"The final was pretty one-sided and we never really saw what Muguruza can do but I think she is going to prove a force in women's tennis and that can only be good for the game!
"As for Serena, she won her 6th Wimbledon and 21st singles Grand Slam title and only needs the US Open now to equal Steffi Graf's record and record a calendar Grand Slam. That is an amazing achievement, particularly at the age of 33. She seems to be getting better with age rather than slowing down!
"I was privileged to be in the Royal Box again that day, watching the women's final, and was delighted to meet two of the great characters from Downton Abbey, one of my favourite shows, Dame Maggie Smith – the Dowager Duchess – and Michelle Dockery, who plays Lady Mary Crawley. We had great fun together and I was thrilled to hear that Maggie was a fan of mine and followed my career way back when! I've certainly enjoyed watching her illustrious career!"
"I also had the chance to talk about the Rio Olympics to Jacques Rogge, who retired as President of the International Olympic Committee a couple of years ago. He had lots of questions so I told him about my trip to the Organising Committee a few weeks back and was able to tell him a little about how the arrangements are going. He felt sure it will all go well because the soccer World Cup was a great success and Brazil, being such a large country, everyone is bound to get behind the Olympics next year.
"Getting back to the tennis, it is amazing that [Martina] Hingis won both the ladies doubles and mixed titles some 17 years after winning her first title at Wimbledon, the junior girls singles [in 1994]!
"It is interesting to see how some juniors successfully transition to the senior game and some even manage to win both titles at Wimbledon. That is true of Pat Cash, Stefan Edberg, Roger Federer, Hingis and Amelie Mauresmo.
"Last night [Sunday] was the Champions Dinner, which this year was at the Guildhall in London and what an amazing place that is! I have a passion for castles and it was like stepping into one, with stonework, pillars and courtyards… fabulous!
"The winner of the Junior Boys was there – a 6' 10" tall American called Reilly Opelka who, I am told, has an amazing serve as one would expect from such a height! He certainly towered over all of us…
"It was a lovely occasion that was made special by the two champions who actually danced together on the stage in tribute to the old days when we used to open the dancing at the Wimbledon Ball. They haven't done that for years but in my day, we did, and I got to dance with Alex Olmedo, Neil Fraser and Roy Emerson… I remember that Alex and I danced Cha Cha Cha!
"It was a very memorable evening and an even more memorable Wimbledon! Chairman Phillip Brook and his wife, Gill, plus all the Committee, the Referee and staff are all to be congratulated for putting on such a good show and looking after us all so well."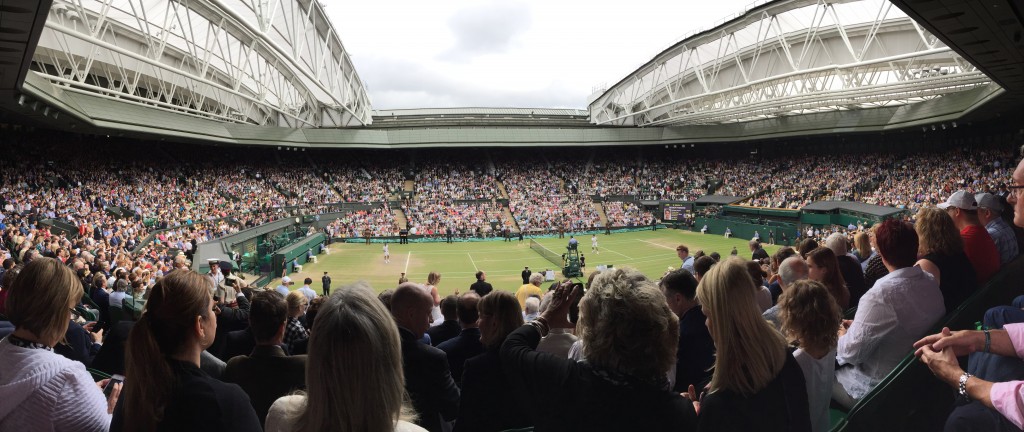 Maria Bueno gives her thoughts on the second week of The 2015 Championships at Wimbledon.