In memory of…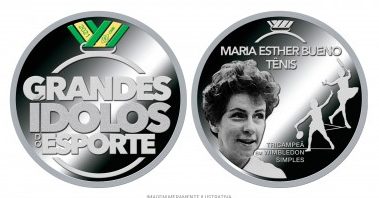 Tuesday 8 June was the third anniversary of Maria Esther Bueno's death in São Paulo in 2018, and it is fitting that her memory is being honoured on 'Tennis Player's Day' by a series of medals from the 'Great Idols of Sport' Collection.
Launched by the Mint of Brazil Medal Club in partnership with Memorabilia do Esporte, the Collection pays tribute to the 'Tennis Ballerina', a 19 times Grand Slam champion.
Maria Esther Bueno is the second Brazilian sports personality to be honoured in the 'Great Idols of Sport' Collection, which was launched on Wednesday.
Universally considered the greatest name in Brazilian tennis in history, Maria Esther was a former World No 1 (in 1959, 1960, 1964 and 1966) who was inducted into the International Tennis Hall of Fame in 1978 and the Tennis International Women's Sports Hall of Fame in 1993.
---
This slideshow requires JavaScript.
---
The first sports hero to have a commemorative medal released in his name was Robert Scheidt, who has won two gold medals, two silver medals and a bronze at five Olympic Games.
The series will also include the likes of Rodrigo Pessoa, an equestrian show jumper gold medallist who has represented Brazil at six Olympic Games; Jackie Silva and Sandra Pires, both Olympic volleyball players; Daniel Dias, a Paralympic swimmer; Hortência Marcari, one of the greatest female basketball players in Brazil; Cesar Cielo, a three-time Olympic and six-time individual World Championship gold medal winner and world record holder; and Daiane dos Santos, a retired artistic gymnast, all in 2021.
Further names will be announced at a future date for 2022.
The limited edition series offers medals in silver, gilded bronze, bronze and cupronickel, already available for sale on the Clube da Medalha and Memorabília do Esporte websites.
"For us in the family, it is an honour to see our aunt being recognised in a collection as prestigious as this one, alongside brilliant athletes who shared the same ideals that she had," said Pedro Bueno, Maria Esther's eldest nephew. "Representing Brazil above all was important to her, and she contributed so much to our history. This project is about crowning our true heroes."
Champion of 19 Grand Slams among her 589 national and international titles, Maria Esther holds a special history at Wimbledon, the oldest and greatest tournament in the world, where she won eight titles, three in singles and five in doubles, on London's hallowed grass courts.
Maria Esther is also in the Guinness Book of Records for having won the US title at Forest Hills in 1964 in just 19 minutes, the fastest win in a final in Grand Slam in history.
---

---
Produced by the Mint of Brazil and minted with a special 'proof' finish, the silver (+31g), golden bronze (+24g) and bronze (+24g) medals have a diameter of 40mm, while the cupronickel line is 30mm.
The Maria Esther Bueno series features 100 Silver medal units with a value of R$ 560.00, 50 Golden Bronze units at R$ 440.00, 100 Bronze units at R$ 145.00, and 200 Cupronickel units at R$ 60.00.
The 40mm series have a mirrored background, with limited and numbered runs, and include certificates of authenticity from the Casa da Moeda do Brasil (the Mint of Brazil Medal Club), and each piece is presented in a case, while the cupronickel medals are sold accompanied by an exclusive collection card.
---
Maria Esther Bueno
Winner of 19 Grand Slams
Australian Open: 1960 (doubles)
Roland Garros: 1960 (mixed doubles/doubles)
US Open: 1966/1964/1963/1959 (single) and 1968/1966/1962/1960 (doubles)
Wimbledon: 1964/1960/1959 (single) and 1966/1965/1963/1960/1958 (doubles)
Gold Medal at the Pan American Games São Paulo-1963 (singles)
Silver medal at the Pan American Games São Paulo-1963 (doubles)
Silver medal at the Pan American Games São Paulo-1963 (mixed doubles)
Champion of 589 national and international titles (singles, doubles and mixed doubles)
Member of the Tennis Hall of Fame: 1978
Number 1 in the world: 1966/1964/1960/1959
Top 10 in the world for 10 years
---

---
Memorabilia do Esporte (MDE) was launched in 2021 by journalists Bruno Neves and Samy Vaisman who, together, have accumulated more than 45 years in the sports market, with the 'Sport Memorabilia' a pioneer project, whose main objective is the production of an exclusive series in tribute to athletes and stars of Brazilian sport, in a work to preserve the memory of idols and moments.
All collections are MDE's own creation, numbered, serialised and autographed, unpublished productions signed by national artists, and have the seal and certificate of authenticity of SportsBília Brasil, the first certifier of sporting goods in Latin America.
More information at www.memorabiliadoesporte.com.br / @memorabiliadoesporte
---
The Casa da Moeda do Brasil (Mint of Brazil Medal Club) was founded in 1977 with the objective of bringing together collectors and spreading collecting and information on numismatics (the study or collection of currency, including coins, tokens, paper money, medals and related objects) in Brazil.
Nowadays, the Medal Club, in addition to launching products of a cultural nature also seeks to make more modern products with greater commercial appeal, aiming to further promote collecting as a culture.
More information at www.clubedamedalha.com.br /
---