Maria's stay in London has been a bit topsy turvy, what with recovering from illness at the start of her visit in May, Wimbledon a week later than usual followed by the Davis Cup and an unfortunate fall in the weeks after in late July, post Wimbledon.
"I was really stupid, out in the garden playing with the dog when I went after a ball in the bushes," Maria confessed.
"I should have known better but I went after it, lost my balance, and fell pretty badly, hurting my left hand, my face and my side.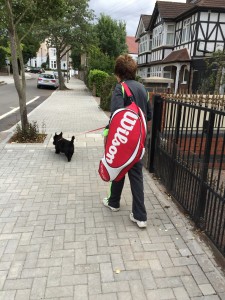 "Although I felt stupid, I was actually pretty lucky really in that I only broke my left ring finger. It could've have been way much worse!"
It may have slowed her down a bit but it hasn't curtailed Maria's appearance on the tennis court or damaged her relationship with Nelson!
Before the drama she had a great hit with Tim Phillips, the former Chairman of the All England Lawn Tennis Club.
"I really like hitting with Tim," said Maria. "He hits just the right pace and we have a great time.
"I also love going back to Wimbledon and we were supposed to play on the grass courts but it rained, which was disappointing. I got to play indoors on the new carpet courts instead.
"I thought they played very well – nice and quick!"
She has also been keeping up with her regular practice partners at David Lloyd Beckenham and Woodfield Grove Tennis Club in Streatham.
"After my fall, it was important to hit with people who control the ball well! I'm very grateful to them all – Andy, Joe, Josue and Alex!"
She was also pleased that the doctor who checked her out after the fall is a tennis player. It didn't take long for the two to become firm friends.
"Loga had just opened his own grass court," she said. "He showed us a video of the opening day festivities filmed from a drone… it was amazing!
"A few days ago he invited me round to check out the court and he has really done a fantastic job, levelling it out of a field and growing the same grass as they use at Wimbledon.
"Apparently The Club publishes a book on laying and maintaining grass courts, which he has been following closely.
"His home is out in the Kent countryside, which is very beautiful and it was a pleasure to go and visit."
Maria is now off again, heading home to Brazil for a few days before setting off for New York and the US Open at the end of the month.
"I was very disappointed to miss the ceremonies in Rio marking one year to the Olympic Games," she said. "The Olympic Committee invited me to attend but I couldn't get onto a flight because there was no room. It is high season everywhere apparently.
"The build up to the Olympics is now starting and it will be on us before we realise it. It will be really exciting to see the Games in Rio and to watch the build up to it all over the coming months."