Belated Happy New Year!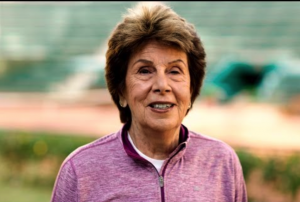 Roger Federer and Serena Williams break records down under and impress Maria Esther Bueno from afar.
For various reasons, Maria Esther's website has taken some time out over the past six weeks or so but, rest assured, our champ wishes you all a happy and healthy 2017!
Webmaster has just caught up with her and found her full of enthusiasm for what has been happening on the other side of the world in Australia.
"I've just watched the men's final on TV. What a great match! One of the best I've seen," Maria Esther enthused.
"To see Roger [Federer] and Rafa [Nadal] playing each other in the final was amazing, considering they were both out of the game for much of last year and have only just got back to playing matches.
"They came through the men's draw that had included Andy Murray, the world No 1, and No 2 Novak Djokovic but both lost early in fantastic matches and it opened up both Roger and Rafa's chances, but they had some incredibly tough matches to get through too.
"Roger took five sets to beat Kei Nishikori in the fourth round and then, instead of meeting Murray in the quarters, he played Mischa Zverev, who played superbly against the British No 1, serving and volleying all the time.
"It certainly upset Murray but Roger outplayed him in straight sets and then took another five sets against Stan Wawrinka in the semis.
"Rafa's run was also tough and he somehow managed to win in five against Alexander Zverev (Mischa's younger brother) before beating off both Gael Monfils and Milos Raonic to get the semis where he was on court for five hours against Grigor Dimitrov, eventually winning in five.
"Rafa and Roger hadn't played each other for four years and you could see they really enjoyed the opportunity to do so, particularly in the final of a Grand Slam after so long.
"The crowd absolutely loved it, giving standing ovations between points and creating an amazing atmosphere, which was great to see. It was a really special occasion.
"I didn't really mind who won, I don't think anybody did, but I'm pleased to see Roger winning his 18th Grand Slam title, which is pretty fantastic at the age of 35!
"Speaking of which, Serena [Williams] finally broke through the record she has been chasing when she won in Australia, her 23rd major title, passing Steffi's [Graf] singles record, and she is now just one short of Margaret's [Court] all-time record of 24 [singles / 64 including doubles and mixed].
"Perhaps that is not so surprising because although Serena is very much up and down these days, when she can get to the final, she usually wins.
"This time she played her sister, Venus, which is another incredible story since Venus has been battling a debilitating illness [Sjogren's Syndrome] so for her to make to the final was a great achievement.
"The sisters have played each other 28 times over their careers and it was Serena's 17th win over Venus, although they haven't played each other for a while.
""I really enjoyed the presentations too. Venus's speech was amusing and creative as she teased her sister.
"Roger made a great speech too. He is always so generous in what he says and you can tell that he and Rafa are good friends. Rafa was gracious as always.
"The two finals were a real throwback to the past in many ways, with all the players well into their thirties, which says a lot about the game today, especially that these four players, who have had surgeries, problems with illness and been away from the game for many months, can still come back and dominate younger, healthy and fitter players.
"Although, I have to say, there were some interesting and exciting challengers down under too, which has to be good for the tournaments coming up but, in the end, age won out in Melbourne and I congratulate both Roger and Serena for achieving their amazing records!"
---