Attending the Sao Paulo Grand Prix
"For me, it was all very different, since I have never seen a Formula 1 race before," she said.
"But I think the weather spoilt the whole thing for everyone because it never stopped raining!
"It started on Saturday night and rained all day. It is still raining now [the day after] and we all got very wet and cold.
"They had to stop the race several times and only just managed to get it completed in time.
"Mostly we watched the cars following the safety car so there was little racing as such."
Maria Esther had lunch in the Pirelli suite from where all the guests could see the whole Interlagos race course from the balcony.
---
This slideshow requires JavaScript.
---
"It was right at the start with the pit lane behind so we could see all the action going on there. The noice was fantastic!"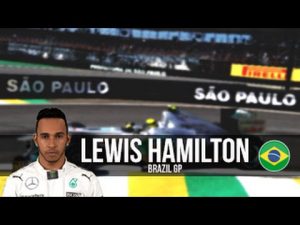 Britain's Lewis Hamilton produced a masterful performance to win the wet, chaotic, crash-strewn Brazilian Grand Prix and take the title fight to the final race.
His ninth win of 2016 came in a race with several high-speed accidents, two stoppages and five safety cars.
The victory cut the lead of his Mercedes team-mate Nico Rosberg, who finished second, to 12 points.
Rosberg will secure the championship if he finishes third in Abu Dhabi on 27 November, even if Hamilton wins.
"It was the first time that Hamilton won in Sao Paulo and I think it meant a lot to him," said Maria Esther. "Ayrton Senna was a bit of a hero to him, I think."
As one of the most dramatic races for years unfolded, Hamilton was supreme at the front in the treacherous conditions, lapping consistently faster than anyone.
After each restart, Hamilton cruised easily away from Rosberg, building at one stage an 18-second lead in 14 laps before another safety car cut his lead to nothing.
His victory was the 52nd of his career, making him the second most successful race winner of all time ahead of Alain Prost (51). Michael Schumacher is way ahead on 91.
---
This slideshow requires JavaScript.
---
"Not too bad, huh," said Hamilton. "I was generally just chilling up front.
"When it rains it's usually a good day for me. It was tricky for everyone. There were definitely opportunities for aquaplaning, which everyone did.
"No mistakes, no issues, no spins. It was kind of interesting to hear how many people were spinning, but I didn't have that problem.
"I have always wanted to win since I watched Ayrton [Senna] win here in 1991.
"It has taken me a long time to get here and it is a historic day for me. To stand on the podium in Brazil where Ayrton was so loved was really special."
Local favourite Felipe Massa's hopes of finishing his last race in from of his home crowd on the podium were dashed as he crashed out of the Interlagos contest on lap 48, after struggling to deal with the treacherous weather conditions.
"I will never forget this day," said the emotional Massa who had just announced his retirement from Formula 1.
In an extraordinary series of events the pit lane became a mass of opposing crews forming an impromptu guard of honour for the Brazilian racing driver, greeting Massa as he made his way over to his waiting family – wife Anna Raffaella and son Felipinho, whereupon he burst into tears.
"It's difficult to explain the feeling,' Massa said. "So special to see these guys in the middle of the race going out, just to see me passing after such a big crash."
---
Relishing the Rolex crowd
The night before (Saturday 12 November) Rolex held a party at the beautiful home of Dinho Diniz to celebrate the Interlagos GP, at which the worlds of fashion, sports and, of course, the high-end watch industry came together for a lively night.
The villa is located close to the Sociedade Harmonia de Tenis where Maria Esther is a member.
"I was very pleased to visit Dinho's home," said Maria Esther. "We've met at the club a few times but I have never been to his house and it was such a surprise! We were greeted by a llama at the front door and you could see right through the house to a beautiful swimming pool in the huge garden beyond!"
It turns out that Mr Diniz loves animals and has quite a few at his home.
---
This slideshow requires JavaScript.
---
"I've seen the llama walking round the block with a handler, rather like a dog, but was amazed at how friendly it is.
"He also has a monkey and a Onsa [Jaguar] out back. He took me out to see them and they are very sweet.
"He also showed me videos of the monkey playing the drums and shooting basketball hoops! Incredible! I love monkeys so it was just great for me.
"There was also a South African peacock and apparently the monkey takes the llama for a walk on a lead, protected by the peacock!"
The party was a great success and Maria Esther, who was accompanied by Rodrigo Trussardi had the opportunity to meet many of assembled guests.
"It was a wonderful occasion and I was pleased to be included by Rolex," she continued.
"The house has a huge garden with a pool and it was really nice to walk around there talking to people. Lots of pictures were taken!
"There is a nightclub in the cellar of the house so everyone was having fun down there too. It was just a shame it started raining… we should've known!"
Maria Esther met the Directors from Rolex Switzerland and all the local people from Rolex Brazil.
"it was a pleasure to see them all again," she said.
---
 A long but happy day
"We had a very early start on Sunday and I left the house at 7am for breakfast with the Pirelli directors and their guests at the Sheraton Hotel [WTC]," continued Maria Esther.
"We were then taken to Interlagos where we did a tour of the garages and met all the teams.
"We saw all the different types of Pirelli tyres and they explained they were to be used and what the rules were – all a bit confusing to me and very scientific!
"Also, all the cars were in pieces, which was pretty strange since they were about to race…"
---
This slideshow requires JavaScript.
---
Among the many Maria Esther met was Brazilian supermodel Izabella Fiorentino, who is a fellow Pirelli ambassador.
"She could not have been nicer," she said. "Very tall and very glamorous but down to earth and friendly.
"In fact, the whole group could not have been friendlier! We met football players and celebrities all over the place.
"Despite the rain, the pit paddock was obviously the place to be in Sao Paulo that weekend!
"We then up to the Pirelli suite where we had a wonderful lunch and watched the start of the race, which was just below us.
"The spray was incredible, and it was all so fast in spite of the safety cars… not a bit like television, I must say, but that's true of every sport, isn't it?"
The Grand Prix was supposed to take either 71 laps of the Interlagos course, or a maximum of 120 minutes and by all accounts should have finished by 4.45pm.
Because of the poor weather, the two red flags and the safety car deployed five times, the required number of 71 laps was completed, with Hamilton the victor.
---