26-27 April 2014
Maria spent a hilarious weekend with a group of 24 male members from her club, Sociedade Harmonia de Tênis in Sâo Paulo, who took off to a country estate to compete in their annual tournament.
"We call them the 'Cave Men' at the club because they meet in the dark entrance to the stadium court and they are my very good friends!" Maria explained to mariabueno.org.
"They have been inviting me for years and this time I was able to make it, so if we drove off to this place that is 465 km from Sao Paulo.
"They play on a covered clay court at this beautiful estate and we ate wonderful food and had a lot of fun.
"It was great break for us all!"
The estate is, in fact, one of the largest sugar cane farms in Brazil and Maria was shown around, even taking a ride on a giant harvester.
"They have 20 million square metres of sugar cane, which is incredible, so it was quite something to see," she said.
"After the tour, we had a Churrasco, which is a Brazilian barbecue, that was enormous, with lots of different meats and salads, all done by a professional chef!"
The group all wore specially-made t-shirts that depicted Maria with images from her playing days superimposed over a picture of the match court.
The Tobarcanga Open is held annually at host Tobar's estate in Iakanga involving a pretty unusual bunch of characters, who need no real reason to play tennis and party!
This year was a very special one for them as they had Maria present as their VIP guest for the first time.
There is no report on the tennis but the runners-up were Mauricio and Nerval, who bit his trophy like Nadal, while the winners were Luis and Serra.
After presenting the prizes, Maria herself also receiving a presentation and she gave an impromptu response, thanking all her friends for the memorable weekend (see http://youtu.be/X5Ky3Le7Fa4 ).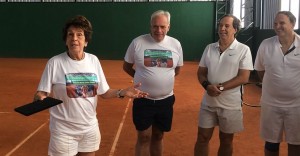 "I talked about our absent friends and told them about one in particular, a very well educated friend of mine – not from this group – who told me winning Wimbledon was no mean feat. We have an expression in Portuguese that 50 years count for 'little poo' in the grand scheme of things… it translates pretty badly into English but perhaps you get the gist of it
" I'm pretty proud of it – Wimbledon, that is, not the 'poo'!
"I'm so thrilled to be going back to Wimbledon as the Chairman's guest this year but I really can't believe it has been 50 years since I won the title there in 1964…
"This group of 'Cave Men' have been so wonderful to me, and to [brother] Pedro over the years, that I can't really express how much we appreciated them and what they all mean to me.
"They helped me a lot through the difficult times after we lost Pedro and I was so glad to be able to spend some time with them at their special event."
It made host Tobar's year too, and the whole group is already looking forward to the next edition in 2015 when they hope to lure Maria back to Tobarcanga again.