Birthday tribute…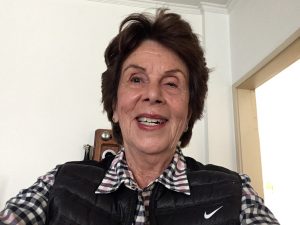 Just a little over a week after her home club paid tribute to her, Maria Esther Bueno celebrated her birthday and received many good wishes from friends and colleagues from around the world, as well as in Brazil, but it was a poignant day for her.
"I had a lovely day," she told her website. "Just how I like it – a good hit in the morning, a nice lunch at the club, a quick visit to the cemetery to lay flowers and then early pizza with the family in the evening!"
October 11 is not only Maria Esther's birthday but, sadly, also the day she lost her beloved brother, Pedro, who was two years older than her and died four years ago.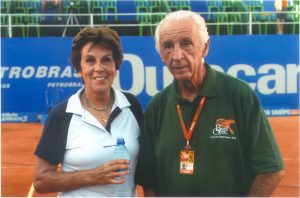 "I still miss him so much," admits Maria Esther. "He was such an important part of my life and was loved by everyone. We all miss him…"
Pedro's three sons all have their own families now and they stay in close touch with their aunt, attending the recent tribute day with her.
---
This slideshow requires JavaScript.
---
She is still amazed by the wonderful day put on for her by the Sociadade Harmonia de Tenis, and their very generous gift of a Rio 2016 Nissan car.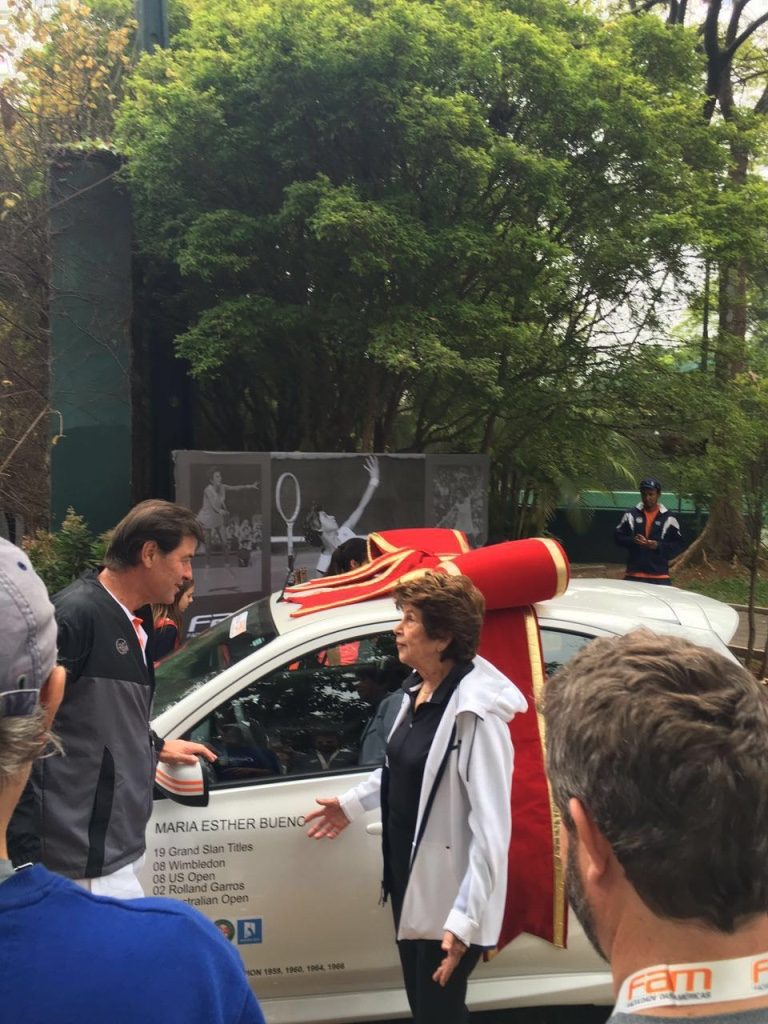 ---
The club posted the following message on Instagram:
Privileged day with Maria Esther Bueno
"[Sometimes] we completely forget she won 19 Grand Slams, won 589 Championships, was voted by the Associated Press as athlete of the year 1959, is at the International Tennis Hall of Fame since 1978, in the Sports Hall of Fame in New York since 1993, has 2 life-size statues dedicated to her in public squares of Sao Paulo, has a postal stamp issued in 1959 with her image, holds the title of 'Best tennis player of the 20th century from Latin America', was Wimbledon singles and doubles Champion 8 times, four times Champion of the US Open (singles), etc, etc. …
"Today [Saturday 1 October] she receives a simple, sincere and well-deserved tribute, anniversary gift and private party here at our Club.
"As you can see, Maria Esther continues playing despite the hip, knee and shoulder surgeries.
"Congratulations, Maria Esther!"
---
---
Many postings followed on social media, reflecting similar sentiments as this one:  "A privilege to be a friend of this legend that is Maria Esther Bueno, one of the greatest tennis players the world has ever had.
"More beautiful [than ever] and still seeing her playing with so much aplomb on the eve of completing 77 years. Congratulations!"
"I don't feel 77!" laughs Maria Esther, "Although I do have to pace myself better these days…
"What my friends at the club have done for me, not only with the Homenagem last week but over the years, has been wonderful and I really appreciate it.
"Pedro was a Councillor at the club for many years and Tennis Director for more than 8 years, and he was very popular with everyone.
"He would have loved to have been a part of this and he certainly would have been proud of what the club did for me and the members.
"This car they gave me is fantastic! I can't believe it!"
The club also staged a Family World Team Tennis Tournament on the day for members that was well contested and enjoyed by all.
---
TV Globo's tribute
Maria Esther's colleagues at TV Globo also remembered her birthday and paid tribute to her:
---
What's next?
Maria Esther continues her busy schedule with a trip to Rio de Janeiro at the weekend accompanying Harmonia's Head Pro Mauro Menezes and the club's team to compete against the prestigious Country Club.
"It was Pedro who initiated this Cup between the two clubs around 12 years ago," explains Maria Esther.
"And they play for a large cup that looks rather like the Davis Cup and stands on a large wooden pedastal where they put the shields of the winners after each match.
"The teams play twice a year, once at each club, and everyone takes it all very seriously!
"We put out the best teams possible, with special shirts which they swap with their opponents afterwards, and it is very competitive.
"Our team has been practising for weeks to play really well so it should be a fun weekend, specially as the Country Club is close to the [Ipanema] beach and very beautiful."
Rio's Country Club celebrated its centenary in September so this particular edition of the competition between the two club is very special and promises to be quite an occasion.
---