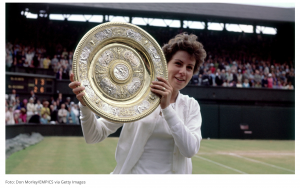 There is no Wimbledon this year because of the coronavirus pandemic, which would have disappointed Maria Esther Bueno, as it has millions of tennis fans.
The 4th of July, American Independence Day, however, was a special day for her since she won two of her three Wimbledon singles titles on this date.
In 1959 Maria Esther won the first of her seven Grand Slam singles crowns on 4 July, beating Darlene Hard, 6-4 6-3, in the final, aged 19.
It was a year in which the first version of the Wimbledon Shop appeared on the grounds selling books and photographs and the All England Lawn Tennis Club made its first proposal to the Lawn Tennis Association to make the Championships 'open to all'.
The motion narrowly failed the following year and it wasn't until 1968 that the game formally became open to both amateurs and professionals.
Maria Esther conceded sets in her second and third round matches, but did not drop another in her last four appearances as her game seemed to improve every time she stepped on court. 
In the final, seeded sixth in the ladies singles, she halted the No 4 seed in straight sets to win her first major crown.
---
1964
It was also the 4th July when Maria Esther won her third Wimbledon singles title, with a 6-4 7-9 6-3 win over Margaret Smith of Australia in a final that many believed to be one of the classic matches of all time.
It was also a personal triumph for her because after winning the title again in 1960, she was almost always in bad health and there was even some talk that she might not compete again.
On her return many thought she would not have the stamina to win another major, and she was to prove them wrong.
A huge Order of Play and Results board was introduced over the tunnel entrance to the stands and new entrances provided for entry to the standing room areas on the Centre Court.
For the first time, a military band was engaged from noon onwards to entertain early arrivals to the Centre Court for both finals days, a tradition that Maria Esther loved and, latterly, she would always be in the stands to listen to the music.
The preeminent players of that era, Bueno and Smith (later Court) took the women's game­ into another realm, a slower but in many ways more captivating type of serve-and-volley tennis than that of the men and their matches were not to be missed.
Not yet twenty-two, Smith already had nine major singles titles in her possession and was a superb athlete.
Standing nearly six feet tall, and statuesque, she covered the court swiftly and blanketed the net, making the stretch vol­ley with regular and unprecedented success, showing her opponents how tough it was to drive the ball past her.
"It was tough to pass her," Maria Esther would recall. "She had such a wide wing-span…"
---
One of the greatest matches of all time
Steve Flink gives a detailed account of the encounter in Chapter Ten of his book entitled 'The Greatest Tennis Matches of All Time' (published in 2012). Here is a summary.
Bueno was the artist, fluid in her shotmaking and spontaneous, and she took great pleasure in being inventive and bold, wearing her heart on her sleeve.
"I think they liked me because they could see what I was feeling," she said. "Being latin, it's what we do!"
Described as 'a ballerina on the tennis court', she gracefully glided through many of her matches, making shots effortlessly and thrilling the crowd.
Smith had won two French Championships along with one triumph at both Wimbledon and Forest Hills, while Bueno had her twin triumphs at Wimbledon and Forest Hills, and the moment had arrived for them to collide again in a major final. Both were ready.
Smith was the top seed at Wimbledon in 1964, while Bueno was placed second.
At the outset, Smith was riddled with apprehension, suffering from serious anxiety, as she often did before Centre Court matches, and double-faulted on break point in the first game.
They traded breaks up to 4-4, when Smith's emotional fragility surfaced again and, at 15-40, she attempted an American twist second serve which landed in the wrong service box, ten feet wide.
Bueno did not waste her opportu­nity to serve out the set and, at 5-4, 40-30, she stayed back on her second serve, then worked her way in behind a backhand slice approach, which clipped the sideline, and secured it, 6-4.
Helped by an over-anxious Bueno, Smith found her confidence and broke the Brazilian to go up 4-0 in the second, and led 40-15, only to be pegged back to 4-4.
The ninth game stretched into nine deuces and Bueno reached break point five times, but Smith remained steadfast, and found other ways to unsettle the Brazilian.
At 5-5, Smith was obstinate on serve again, holding from 15-40, and saving two break points to fight her way to 6-5.
She held to love for 7-6 with deft volleying, then held at love again for 8-7 by scampering in alertly to cover a drop shot before snapping an overhead into the space.
With Bueno serving at 7-8, Smith increased the pressure and, despite squandering the 4-0, 40-15 lead, she reached far inside herself to seal the set.
Until the middle of the final set, the Australian seemed to be the better player, losing only two of fourteen points in three dominant service games, connecting on thirteen of fourteen first serves.
At 1-2, Bueno was break point down but she saved it with a flourish, punching a penetrating first volley, retreating rapidly for a lob from the Australian and smashing it away.
Bueno lifted her game and held and while Smith served an ace to hold for 3-2, she was not daunted, holding to love for 3-3 with a flat backhand passing shot, then broke for 4-3.
She had been taken the net away from her and the match seemed to be slipping away from the Australian as well.
Bueno moved to 5-3 at the cost of only one point and in concluding that game, she was perfect, charging into the net behind her serve, making a solid, deep volley, and knowing where Smith was going with the passing shot.
Smith served to save the match at 3-5, double-faulted to 0-30, and fell behind 15-40, double match point.
When Bueno lofted another effective lob, forcing Smith to play a soft overhead, she moved in and played a backhand half volley approach from mid-court that floated over the net, but the Australian was too stunned to react as it died on the court.
Bueno collecting the last four games in a row to become Wimbledon champion for the third time, and had never been better.
---
Observation
As the eloquent David Gray wrote in The Guardian: "Miss Bueno was scoring points with capricious ease.
"The Brazilian spent points as wastefully as ever, but in the crisis of the match she invariably found it possible to produce luxurious quantities of shots which were rich and imaginative, graceful and deadly.
"She was the more effective server, she did not miss a smash and, in the recollections of even the oldest members, no woman has hit so many beautiful and piercing forehand volleys.
"She stirred the Centre Court as she did in the first dazzling days of her royalty."
The 4th July was indeed a very special day for Maria Esther.
---
The water feature outside the Member's Enclosure at the All England Lawn Tennis Club on a stormy Saturday 27th June 2020 the weekend before The Championships were due to start on Monday 29 June 2020 but were cancelled due to coronavirus / © AELTC/Bob Martin
View of Centre Court at the All England Lawn Tennis Club on a stormy Saturday 27 June 2020 in grounds that are quiet and still / © AELTC/Bob Martin