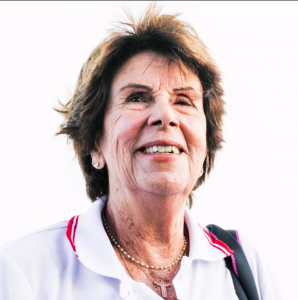 On this day, 11 October, Maria Esther Bueno would have been 81 years old, and many are honouring her memory on social media, recalling her grace and accomplishments on the tennis court.
She started hitting a tennis ball at the age of 6 at the Clube de Regatas Tietê., a multi-sport facility across the street from her home in the north of São Paulo.
She quickly excelled at the game, as well as becoming very accomplished at swimming and ballet, but tennis always remained her true focus.
Aged 14, Maria Esther won her first big title, the adult Brazilian National Championships, and as a tennis prodigy, she soon stood out so that by the time she made her 20th birthday, she was already considered the best player in world.
Not only was this a huge feat for a Brazilian, she also made history by becoming the first player to win the Grand Slams in doubles, winning the titles in Australia, France, Wimbledon and USA in 1964.
That same year she entered the record books by beating American Carole Caldwell in just 19 minutes in the final at Forest Hills, closing out the match 6-1 6-0.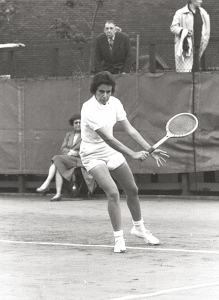 It was one of 7 Grand Slam singles titles that she won, starting with the Wimbledon crown in 1959, while she also won 12 doubles titles and would have surely won more majors were it not for illness and injuries.
In total, Maria Esther Bueno nevertheless, won a staggering 589 titles in her illustrious career.
Back in her hometown, Maria Esther also played in the 1963 Pan American Games, adding three more medals to her tally – Gold in the singles and silver in the women's and mixed doubles.
In 2012, she was placed 38th among the greatest tennis players of the 20th century, and voted the Best Latin American Player of the Century.
The honours she received internationally, nationally and in her home state ranged from being inducted into the International Tennis Hall of Fame in 1978 to receiving the São Paulo medal and diploma, Medalha Anchieta e o Diploma de Gratidão de São Paulo, the highest accolade the state capital can bestow, in a ceremony held at the City Hall in October 2014.
The City Hall of São Paulo paid further tribute to Maria Esther in memoriam with the bestowing of the Medal of Honour to Sports Merit, an accolade awarded in recognition of services to sport in the Municipality of São Paulo.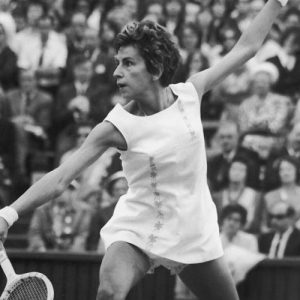 So profound was Maria Esther's impact on South American tennis that a postal stamp honouring her Wimbledon Ladies Singles Championships, won in 1959 and 1960, was issued and the 'Correios de Brasil', stamp serves as a historical marker and tribute to the remarkable career she forged as a player who put both a region and women's tennis on her back.
In his Tennis Encyclopaedia Bud Collins wrote: "… the incomparably balletic and flamboyant Bueno. Volleying beautifully, playing with breathtaking boldness and panache, the lithe Brazilian became the first South American women to win the Wimbledon singles."
In Wimbledon: The Hidden Dream, Gwen Robyns penned, "She looked like an exotic Siamese cat as she roamed the court. Maria was sinuous, sensuous and feminine. They called her the Queen of Wimbledon."
In his book 100 Wimbledon Championships, A Celebration, John Barrett waxed poetically, writing: "Between 1959 and 1964 we were treated to three regal wins from the artistic racket of the elegant queen of Brazilian tennis, Maria Bueno. Here was poetry in motion whose every movement combined the grace of a ballet dancer with the controlled power of a top gymnast."
Maria Esther merged dominant tennis with her inherent beauty, glamorous and chic on court, wearing specially designed dresses created by the incomparable Ted Tinling.
At 5-foot-6, she had long, trim legs and brown hair cut short and tucked behind her ears.
She had no formal coaching and travelled the world unchaperoned, quiet and modest by nature.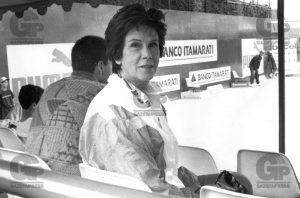 I'm not good," she told the Associated Press, which named her its Female Athlete of the Year in 1959. "I'm afraid of everyone I play."
Maria Esther's career didn't extend long enough to play into the Open Era, and when tour money arrived, significant arm and leg injuries prevented her from competing after 1968.
She did make later cameo appearances, winning the 1974 Japan Open for her lone professional title compared to the 62 tour victories she earned as an amateur.
Her immortality in Brazil endures forever, with 3 statues and a mural honouring her legacy.
Maria Esther Bueno passed away on 8 June, 2018 in her native São Paulo, after cancer of the lip spread to her throat and later to other parts of her body.
She was l
ain in state in the Palácio dos Bandeirantes and then buried in the family mausoleum at the Cemitério da Consolação as three days of public mourning were declared by the Governor.
On her death Brazil's president, Michel Temer, said "Maria Esther Bueno will always be remembered as the No 1 of tennis in the hearts of all Brazilians."
Her legacy lives on with her name adorning the Olympic Tennis Stadium in Rio de Janeiro, the statues in her native city, the tournaments staged in her honour, and the memory of the sublime way she caressed a tennis ball.
---