Post Wimbledon…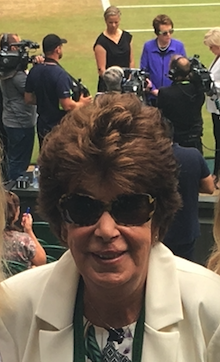 Following the conclusion of The Championships at Wimbledon, Maria Esther Bueno has been hitting to a length and catching up with her various clubs in London before heading home to Sao Paulo, Brazil.
"We've been back to Wimbledon a couple of times since The Championships and I am always amazed at how quickly they get the Club back to normal," says Maria Esther.
"I expect they are already thinking about next year!
"I think they can be proud of how well it went, with record crowds and a growing worldwide audience on television and all the other ways people can now watch matches with live streaming on Apps and social media.
"It is a changing world with all this digital development, and I admit that I find it hard to keep up!
"I'm just happy to be involved with television and grateful I have the use of my iPad and mobile phone which help me keep up with everything I need to."
---
This slideshow requires JavaScript.
---
For the first time, television coverage from the Qualifying Competition was shown with matches on the main show court broadcast to spectators inside the grounds at the Bank of England Grounds in Roehampton via a giant video screen and to Wimbledon fans around the world on Wimbledon.com and via the AELTC's broadcast partners.
The BBC, who celebrated 90 years of broadcasting Wimbledon this year, served 24.1 million stream requests during The Championships via BBC Sport and BBC iPlayer, making it the most streamed to date.
The most popular match was Rafael Nadal and Gilles Muller's 66 game epic with 1.4m requests, while the Johanna Konta vs Simona Halep semi-final at 7.4m viewers became the most watched Wimbledon Ladies' match on BBC record.
---
---
The Men's Singles Final had a peak of 6.4m viewers and the Ladies' Singles Final peaked at 4.7m.
"These are amazing numbers and just show the incredible global reach of Wimbledon around the world," commented Maria Esther.
"Attendance on the grounds over the 13 days was nearly half a million [473,372] and what I find fascinating is that they were served just over 300,000 glasses of Pimm's [303,277] and 166,000 portions of strawberries [166,055].
"Apparently the strawberries are specially picked early each day in Kent and transported to Wimbledon."
---
This slideshow requires JavaScript.
---
"The Club likes to publish these facts and figures each year and they go to show what an incredible stage production The Championships are," she concluded.
---
At Queens
Maria Esther was thrilled to accept an invitation to lunch at The Queen's Club the week after Wimbledon, courtesy of Karen Phillipps, on the directors there.
"Although I have been to Queens, it was during the tournament and I didn't get to see all the amazing works they have at the club, including the new dining room and bar area, the library, games room and ladies dressing room," said Maria Esther.
"It looks fantastic and we had a fabulous lunch too! It was a great day out!"
---
This slideshow requires JavaScript.
---
At Beckenham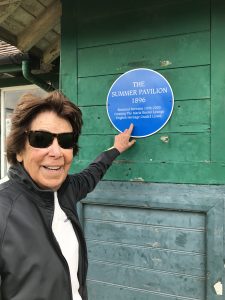 Maria Esther has played several times at Beckenham Lawn Tennis Club, which is 136 years old, having been founded in early 1866 and is one of the oldest sporting venues in south-east England, although Lawn Tennis was not conceived at Foxgrove Road until November 1879.
From an original three grass courts, the club now boasts 18 courts – including six grass, four acrylic, three artificial clay and five macadams.
Maria Esther, one of only a small number of players who won both the Wimbledon and Beckenham titles, is a regular summer visitor and player at the club.
In 2004, The Maria-Esther Bueno Lounge was opened in The Summer Pavilion.
"I feel very honoured to have the lounge in pavilion named after me because it makes me feel very much a part of the club's history," said Maria Esther.
"I have had many good times there, when I was playing and over the years since I've been coming back to Beckenham on a regular basis.
"The history of the club is amazing. Did you know they only started allowing women into the new clubhouse in the late 1960s?
"We used to change in the old Summer Pavilion and have our meals there so I never knew about that rule until now!"
This slideshow requires JavaScript.
In fact, nine years after the first Championships at Wimbledon in 1877, Beckenham organised its own tournament, earning a reputation for a garden party atmosphere.
For the next 110 years Grand Slam and world champions plus players of every nationality played on the club's well-manicured grass courts as a warm-up to Wimbledon.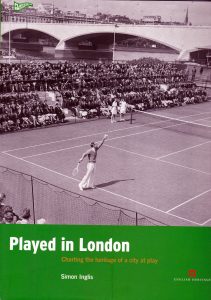 Beckenham's Summer Pavilion was English Heritage Grade II listed in March 2013 and features in a book, 'Played in London' by Simon Inglis (2014) [https://www.amazon.co.uk/Played-London-Charting-Heritage-Britain/dp/1848020570], alongside other historic sporting venues in the English capital.
"I'm really proud that they have put up a plaque on the pavilion that mentions my lounge," said Maria Esther. "I hadn't seen it before so it was a huge surprise!"
Maria Esther played several times with Peter Kiss, one of the teaching pros at Beckenham.
"We have really good hits together, although it does get pretty windy there at times!" laughs Maria Esther.
"Then you have to pay attention!"
---
This slideshow requires JavaScript.
---
Woodfield Grove
She also has returned several times to Woodfield Grove Tennis Club where she has hit with Lucia Sariscanova and Silviya Grosdanova.
"I've said it before but I really enjoy hitting on the courts at Woodfield Grove," says Maria Esther.
"They have cushioned acrylic and are pretty fast, which suits me just fine, besides which it is not so windy there.
"Unfortunately the weather hasn't been too great these past couple of weeks and there has been quite a lot of wind around!"
---
---
Maria Esther now heads home for a few weeks before travelling to New York for the US Open at the end of this month.