Fantastic Federer!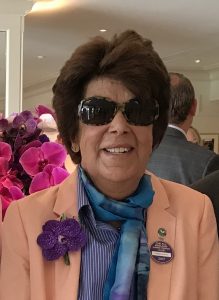 Maria Esther Bueno gives her take on The Championships at Wimbledon on its conclusion, relishing in 'fantastic Federer's win.
"I am so happy Roger [Federer] won his 8th singles title at Wimbledon," Maria Esther told her website.
"I'm a huge fan, as you know, and I really admire how he plays and his demeanour off the court.
"He is a fantastic ambassador for our game and it will be a great loss when he eventually retires.
"Lucky for us that he doesn't seem to have any wish to do so anytime soon because he is even talking about playing at the next Olympics in Tokyo in 2020.
"He seems to have achieved the impossible, winning two Grand Slam titles after taking something like 6 months off.
"I think there is a lesson in there somewhere, because he has taken the time to get physically well, working on strengthening his knees, which were giving him trouble even after his surgery, and he has come back in great shape.
"He also has been sensible about the tournaments he plays, opting not to play any clay court events because he knows it will put a strain on him.
"By the time he got to Wimbledon he was playing well and growing in confidence, so much so he didn't drop a set over the two weeks and although he wasn't quite as sharp in the final, he did what he had to do and won in straights sets.
"Something was up with [Marin] Cilic [a blister] and he didn't play nearly as well in the final as he can do so, in a way, Roger was lucky there, because he could have been a real threat, but that is how the game goes – you need some luck as well as skill, determination and the right game plan!"
---
---
"I think Andy Murray should take a good look at what Roger has done, and makes sure he sorts out that hip injury or it will be trouble for the rest of his career," Maria Esther continued.
"Of course, we don't know how serious it is and apparently it is something he has managed over the years, so maybe a good rest will help to sort it out.
"It was a shame though, that he got to Wimbledon not 100 per cent fit. Had he beaten Sam Querrey in three sets, he just might have had a chance but it became a disaster when he was taken to five. I think he hurt himself again sometime at the end of the third and then couldn't move, but hats off to Querrey for taking the win.
"I was disappointed when Rafa [Nadal] lost but it was a fantastic match, full of drama over nearly five hours and I must say that Gilles Muller played incredible grass court tennis.
"Unfortunately for him, he met Cilic in the next round and ran out of ideas, losing in straight sets as often happens after these big wins.
"[Novak] Djokovic was another of the 'big four' to drop out. He pulled out of his match against [Tomas] Berdych with an elbow injury and also looks set to be out of the game for a while, possibly needing surgery too."
---
---
"Wimbledon was full of surprises, lots of retirements mid match, new names, good weather (mostly!), and by the time you get to the final weekend, it all fades very quickly!" added Maria Esther.
Roger Federer said he always believed he would win another Wimbledon title after making history with his straight-sets victory over Marin Cilic in Sunday's final, beating a tearful Croat, 6-3 6-1 6-4, to become the first man to win eight Wimbledon titles and claim a 19th Grand Slam in total.
It is Federer's first win here since he beat Andy Murray in 2012 and he is now the oldest man to win the title at age 35.
---
---
"I truly believed," Federer said afterwards ."For me, it was also important that my team believed it, as well.
"When you're doubting yourself, they reassure you. If you're feeling too good, they make sure you come back to planet earth and put you in your place. That's where I think I have a wonderful team.
"I'm incredibly surprised how well this year is going, how well I'm feeling, as well, how things are turning out to be on the courts, how I'm managing tougher situations, where my level of play is on a daily basis. I am surprised that it's this good," added Federer, who has now won five titles this year – more than any other player.
"I don't know how much longer it's going to last," he admitted.
"I have no idea. But I just got to always remind myself that health comes first at this point. If I do that, maybe things are actually possible I didn't think were."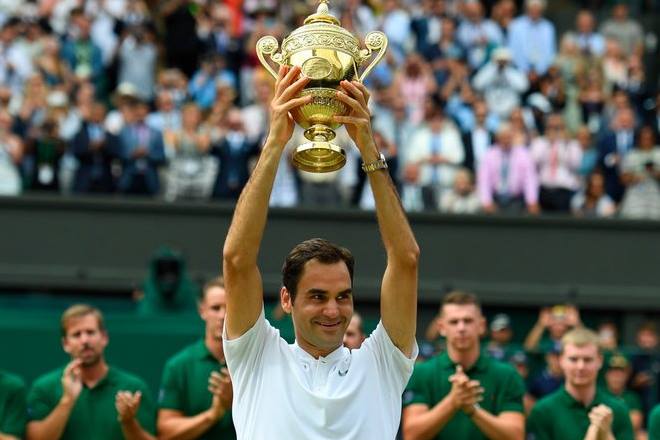 Asked to explain his remarkable success and longevity, Federer named a number of factors: "At this stage it's really consistency. I'm not shying away from the big stage. I've always been a big-stage player.
"I struggled on Court 18 – I just didn't feel I hit the ball as good there than on Centre Court.
"I trained really hard and really well and very clever over all the years. I go back to my first coach, to my coaches today, and the same thing with fitness all the way to today: I think every step of the way I always had the right people.
"Then I had a wonderful, amazing people around me in my wife today, my parents, who always kept me very grounded, kept me the person I am still today.
"Then in the game, I guess I was blessed with a lot of talent, but I also had to work for it. Talent only gets you that far really.'
Some of his comments strike a chord with Maria Esther, who says: "I know exactly what he means about performing on the big stage. I was the same. If I was out on a field court with a man and his dog watching, I couldn't play but as soon as I was on a big show court, everything fell into place!
"I didn't have the benefit of clever training though and definitely played way too much but in my day you had to – singles, doubles and mixed every week – and you had to keep winning to get invited to the next tournament. Things have really changed these days!
"I wish we had had the help players get today – physios, trainers, coaches… but Roger is right, you have to be blessed with talent to succeed, and you also need to work hard."
---
Magnificent Muguruza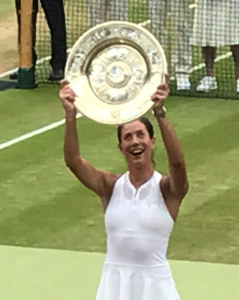 Garbiñe Muguruza won her first Wimbledon title and shattered Venus Williams' history bid with a 7-5 6-0 victory in Saturday's final.
It was Muguruza's current, albeit temporary coach, Conchita Martinez, who was the first woman to raise the Spanish flag at Wimbledon in 1994 when she defeated Martina Navratilova in her last final.
"The first set was tough. We both had a lot of chances. I'm glad I took mine," Muguruza said.
"Two years ago I lost in the final against Serena and she told me I would win one day. Here I am. Finally.
"I never knew how it was going to go because I was very nervous. I wanted it to go my way," she added.
"I was doing everything I could to be prepared. Once you step on the court, you see the crowd, you see the final, you see I'm here playing another Wimbledon final. I am very satisfied the way I handled it."
Maria Esther was sitting in the Royal Box for the ladies final and had an excellent view of the match.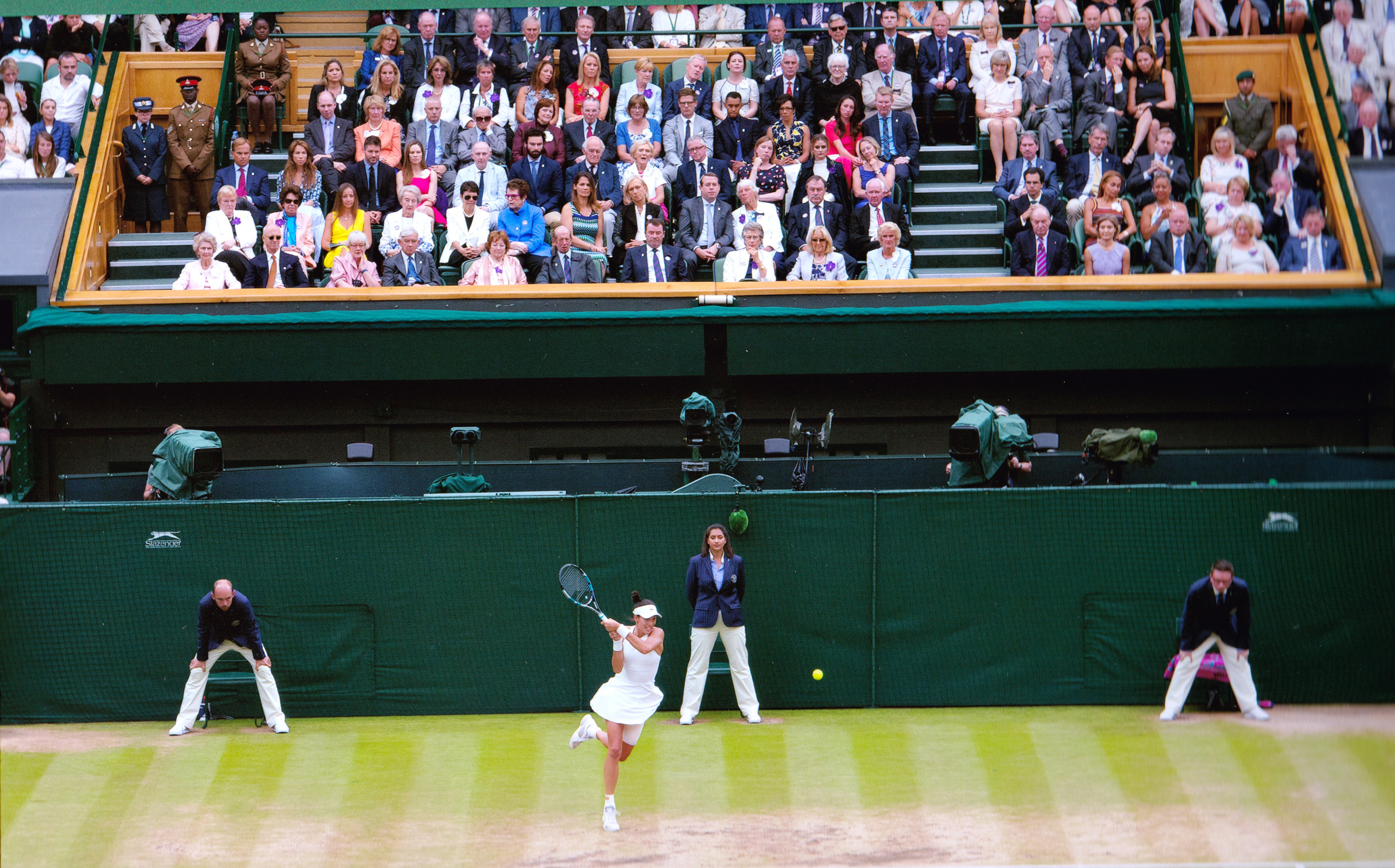 "It was a really a good first set and Venus had her chance to win it at 5-4 and had two or three break points, but Garbiñe defended incredibly well and held. I couldn't believe how quick she was.
"That seemed to be the turning point because, after that, Venus seemed to lose the plot as Garbiñe won the first set and the next six games to win the title.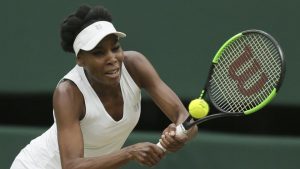 "I felt sorry for Venus because she is a great champion and it would've been nice to see her win a sixth title but then it is also good for the game to have a new champion.
"Muguruza won in Paris last year and then her form slumped until now, really, so it is good to see her playing so well again.
"Of course, everyone was talking about Johanna Konta, who was the bookies' favourite to win but she then lost to Venus in the semis.
"The women's draw was up for grabs as soon as Serena [Williams] was out of the picture [pregnant] and there were no real front runners.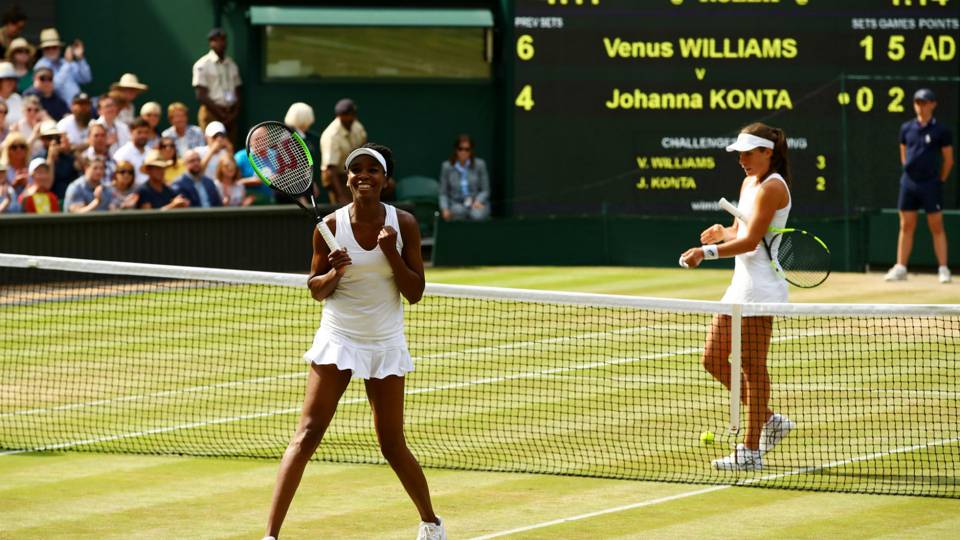 "It really was full of surprises and, I suppose, Venus reaching the final was the biggest, although she had made it through to the Australian final in January.
"Muguruza came through the draw very quietly until she beat [Angelique] Kerber, the World No 1, and then suddenly became a real contender.
"Venus had the way tougher path, having to recover from dropped sets all the way against the likes of [Jelena] Ostapenko and [Simona] Halep.
"To win Wimbledon you have to stay focused and pace yourself, and, as Roger says, believe you will win.
"I think Garbiñe believed rather more than Venus on Saturday."
---
Off court
Maria Esther provided features for TV Globo SporTV throughout the fortnight and met up with friends as well as enjoying her days in the Royal Box.
On Ladies Finals Day, she met Mary Berry, a British food writer and television presenter famous for her baking skills and longevity.
"We had lunch together and she is delightful," said Maria Esther. "A very interesting woman, who was so happy to be at the finals.
"She was so hoping it would be Jo Konta in the final but enjoyed herself anyway. They share a baking passion apparently!"
This slideshow requires JavaScript.
The Champions Dinner
This slideshow requires JavaScript.