The day everyone plays…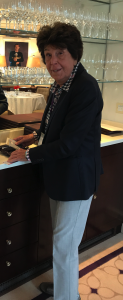 Maria Esther Bueno's first week at Wimbledon turned out to be a fun one, as well as a busy one. She talks to her website about Manic Monday.
"I had some very good friends from Brazil over, who have never been to Wimbledon before," she said. "So we had a lot of fun, showing them around, and really getting into the tennis!
"I was also on call for TV Globo SporTV, and we got to fit in as and when we could so that got a bit busy too."
Maria Esther was in the Royal Box on the first Tuesday, seated in the front row with her guest, Ms Neide H Moraes.
"Best seat in the house! She was so impressed with Wimbledon, and especially her day in the Royal Box," she said.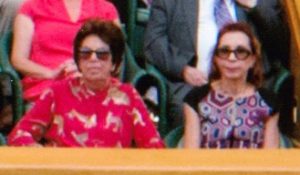 "It is such a unique experience, especially for us Brazilians who appreciate beautiful things and good service!
"And she got to see [Angelique] Kerber, [Novak] Djokovic and Roger [Federer] so it was a fantastic schedule too."
The Championship has already been full of surprises after a week of high temperatures and some amazing results.
"Roger and Rafa [Nadal] are playing really well, keeping up their form of earlier in the year – Rafa on the clay and winning Roland Garros and Roger taking Australia, his 18th Grand Slam title and then winning Indian Wells and Miami," says Maria Esther.
---
---
"I think he [Federer] did well to skip the clay court season because he has come back energised and refreshed.
"In spite of all the doubts over Andy Murray's fitness, he has come through the draw well, although he was limping badly during his last match on Friday against [Fabio] Fognini and he dropped a set. I expect him to be well rested too by Monday though."
---
---
Retirement controversy
"We saw an incredible number of retirements by players, men mostly, who went on to play their matches knowing they were injured and then pulling out," observed Maria Esther.
"That happened when we were in the Royal Box, first [Martin] Klizan against Djokovic after 40 minutes and then, incredibly, [Alexandr] Dolgopolov did the same thing against Federer in the next match. It's unheard of on Centre [Court] and the organisers must have been really upset.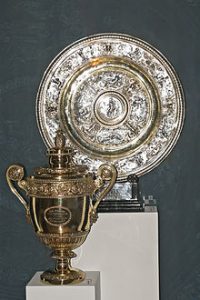 "There is so much prize money now for playing the first round at Wimbledon [£35,000] and the players also get money towards their hotel and food while they are still in the tournament, so they play when they shouldn't, just to pick up the money.
"You can understand that, but it is very bad for the public when players pull out of their matches.
"Nowadays tennis is entertainment and people pay a lot of money to get to Wimbledon so you really don't want to see this sort of thing happening, and I think they [the organisers] are going to have to come up with some sort of solution.
"The ATP are trying out a new rule that allows players to pull out of two tournaments a year when injured and still receive the prize money.
"This allows the organisers to put in lucky losers so the crowd gets to see some good tennis. It will be interesting to see how that goes."
In fact, there were seven retirements in the men's main draw – Nick Kyrgios, Denis Istomin, Viktor Troicki, Dologopolov, Janko Tipsarevic, Felician Lopez and Klizan; but just one in the women's – Anastasia Potapova.
"There are, of course, legitimate injuries that happen during matches that make it impossible to play on and these are very unfortunate," continued Maria Esther.
"Poor Bethanie Mattek-Sands suffered a horrible knee injury during her second round match and went to the hospital, which was very sad for her as she needs surgery now and will out of the game for a long time, I suspect, but these things happen very rarely."
What does Maria Esther think about some of the on-court behaviour last week?
"If you are talking about [Bernard] Tomic and his using the injury timeout to slow down his match when there was nothing wrong with him and then later saying he was bored by it all, I think he is very unprofessional.
"He has been given the biggest fine ever by Wimbledon but I doubt this will change his attitude.
"Again, because of the money, he is playing when probably he would be better off doing something else that interests him more.
"Playing tennis as a career is an amazing opportunity but it doesn't suit everyone.
"You know, some players don't seem to appreciate that and I really don't like how some of them treat the officials and ball kids during their matches – they are way too arrogant and act like everyone owes them something, when they don't!
"Some better manners really would not be a bad thing…"
---
The women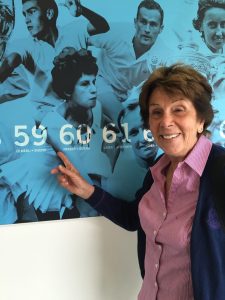 The women's draw is looking wide open with the absence of Serena Williams, who is pregnant. Any thoughts who will win it?
"Well, there were upsets all over the women's draw and although the two top seeds are still with us until today, half of them have already gone!" said Maria Esther.
"It is hard to tell [who might win] and, rather surprisingly, Johanna Konta is now the bookies' favourite to win the title!
"She is the sixth seed and, I think, still has some ways to go to achieve that. I'd be surprised if she is in the final on Saturday but you never know these days and she is playing really well. Very determined."
---
---
"Kerber is the World No 1 but doesn't look at all comfortable with that, and she has started to play better and she is still in the draw, so she could make a run to the final if she can get past Garbine Muguruza on Monday.
Anything in particular to look for on Manic Monday?
"It is probably the best value ticket of the whole two weeks because all the quarter-finals are played in the men's and women's so there is great tennis all around the place.
"The Federer – [Grigor] Dimitrov match will be interesting, and Dominic Thiem could well come through against [Tomas] Berdych.
"Of course, everyone will be watching how Andy [Murray] can do against Benoit Paire, a Frenchman who plays well on the grass.
"Rafa has another grass court specialist to deal with – Gilles Muller – but he should come through that.
"In the women's anything can happen in those quarter final matches, and they are all pretty evenly balanced.
"Venus Williams has managed to come through her matches, mostly in three sets, and is looking stronger as she goes, while Jelena Ostapenko, the winner in Paris, meets Elina Svitolina, another young hope from Russia.
"Simona Halep takes on Victoria Azarenka, just back from having her son in December, which could also be a good match.
"I should also say that it has been fun catching up with various people at Wimbledon.
"One of them was Beatriz Haddad Maia, our number one player in Brazil [known as Bia], who beat Laura Robson in the first round and then had a close match with Halep, losing 7-5 6-3."
What else is planned for the second week of Wimbledon?
"Well, a lot of my usual commitments and, of course, my work for television," Maria Esther concludes.
"It is all leading up to the final weekend when we will know who the new champions are. Always something special!"