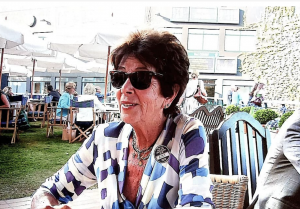 The Bueno family are partnering with the MARAEY Project to build the Maria Esther Bueno Tennis and Sports Club in Maricá, Costa do Sol, in the State of Rio de Janeiro.
The state-of-the-art Club will become Brazil's first high-performance tennis centre, offering clay, hard and grass courts in a sports complex located 40 kilometres from the centre of Rio de Janeiro.
It will be a facility dedicated to the training of new athletes and social projects within the sport, a project of which the Grand Slam champion would have been proud.
The 8 tennis courts, combining clay, grass and hard surfaces, make the club the only one in the country to offer all three options for major international tournaments as well as for a high-performance training.
Part of the revenue generated from the sports centre will go towards social projects to promote, through sport and education, social actions in municipalities surrounding Maricá.
"For us in the family, it is an honour to be in an enterprise of this size," says Pedro Bueno, Maria Esther's eldest nephew. "It preserves the image and importance that my aunt had, not only in tennis, but in the sport of our country.
"The sports complex Maria Esther Bueno Tennis & Sports Club, in Maraey, in addition to fostering the training of new high-performance tennis players, will work hard to promote social projects through sport and education, ideals that my aunt held dear and are part of her legacy. for us."
Emilio Izquierdo, CEO of the MARAEY Project added: "It is with honour and pride for us to pay tribute to the greatest icon of Brazilian tennis of all time, a woman who overcame challenges and marked her name in the sport, being a world champion in different forms. 
"Maria Esther Bueno's success as a woman in tennis is very significant and opened the way for her to become popular with both genders.
"We are embracing her values ​​and principles at our sports centre, and we want to contribute to tennis, just like Bueno did, giving it opportunity and attracting supporters."
---
---
The Maria Esther Bueno Tennis & Sports Club
The addition of a grass court, which is rare in Brazil, with only four courts across the country, the Maria Esther Bueno Tennis & Sports Club will also have a gym, fitness centre, physiotherapy, two swimming pools (one semi-Olympic and indoor), a soccer field, paddle courts and sports court.
To be built within a MARAEY tourist-residential development, the sports complex is expected to begin its licensing process in the first half of 2021.
Maria Esther Bueno won more than 570 titles in her career, 19 of them Grand Slam tournaments, winning 8 times at Forest Hills (now the US Open) – 4 in singles and 4 in doubles; and 8 times champion at Wimbledon – 3 in singles and 5 in doubles; plus once at the French Open (Roland Garros) in doubles and twice at the Australian Open, once in doubles and once in mixed doubles.
She was the first tennis player to win the Grand Slam in doubles, winning the titles in Australia, Paris, Wimbledon and the US Open in 1960 with different partners, and was acknowledged as the World No 1 in singles in 1959, 1960, 1964 and 1966.
In 1964 she entered the Guinness Book of Records for winning the fastest major final in history, at tForest Hills, where she defeated Carole Graebner in just 19 minutes.
Bueno was inducted into the International Tennis Hall of Fame in 1978, and into the International Women's Sports Hall of Fame in New York in 1993.
In 2000 she was voted the Best Latin American Tennis Player of the 20th Century in celebration of the Millennium by specialist journalists around the world.
---
---
The MARAEY Project
The MARAEY project will be developed in Costa do Sol, in Maricá and will take around 14 years of construction.
In its tourist arm, the project will have 4 five-star hotels, which will receive an average of 300,000 tourists a year, including a luxurious eco-boutique resort, a hotel designed to be the most iconic convention resort by the sea in the world. and the MARAEY Golf Resort situated around an 18-hole international standard, fully sustainable golf course.
The project will also offer new houses of different types (multifamily, duplex and villas) with integrated services such as school, hospital, shopping and businesses.
in addition to the numerous leisure and sports activities on offer, MARAEY also includes an international standard hospitality university, to position Maricá as a specialised training centre in Latin America.
The private investment foreseen for the project is in the order of R$ 11 billion, with an additional R$ 1 billion annual operational budget, while the forecast is for an increase in the State of Rio economy through the generation of 36,000 jobs when MARAEY is in full operation.
Iniciativas e Desenvolvimento Imobiliário – IDB Brasil, the company that owns the MARAEY project, is made up of an international business group from Spain, Brazil, USA and China, led by the Cetya Group (www.cetya.es) and the Abacus Group (www.abacusgrupo.com), who have more than 40 years of professional experience in construction, engineering, design, exploitation and production of raw materials, as well as in the development and management of real estate and hotel projects.
The companies have always stood for sustainable development, working to protect and enhance the fauna and flora in the environment of their projects.
The MARAEY project, which will become the leading sustainable tourism-real estate development in Brazil, is the first private initiative destination in the world to sign with the Biosphere Seal.
With this certification, the project is committed to developing in line with the 17 United Nations Sustainable Development Goals (SDGs), and the most recent guidelines of the Paris Climate Conference.
The Tourist Destinations category, in which MARAEY is registered, has awarded the seal to only 41 locations around the world committed to promoting sustainable tourism, and among the cities and regions already certified are Barcelona and Tenerife, in Spain, Canada's Thompson Okanagan in British Columbia, and Toro Toro in Bolivia.
By generating employment and wealth, the MARAEY project will have a positive impact on the communities involved, including environmental, public administrations, workers, clients and collaborators and, through various foundations, IDB collaborates with NGOs to focus on education and sports as drivers of change.
---
---
A fitting legacy
Maria Esther would be proud to have her name associated with such an innovative and far-reaching project that will enrich the lives of so many, both within sport and beyond.
Prior to her death in June 2018, she was actively collaborating with her friend, former tennis player and coach, Mauro Menezes, with his academy in São Paulo to develop opportunities for young players through tennis, and would welcome being associated with this ambitious project.
For more information on the MARAEY project visit www.maraey.com.
---