Kerber wins second Grand Slam: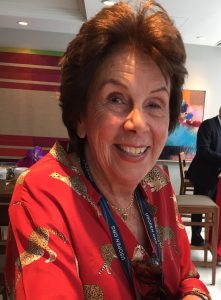 The final weekend of the US Open is always exciting and Maria Esther Bueno was watching the great finals  as intently as everyone else as two new champions were crowned in New York.
"I watched Karolina Pliskova beat Serena [Williams] on Thursday and was very impressed with her serve and that she volleyed a few times," Maria Esther observed.
"But she was not the same player in the final against Angelique Kerber!
"Maybe it was nerves, and she did manage to win the second set, but it always looked to me that Kerber would win."
Angelique Kerber won the US Open title to record her second Grand Slam win of the year following her success in Melbourne defeating Williams, making the final at Wimbledon where she lost to the American, and a few weeks later collecting the Silver Medal at Rio 2016.
"She has had an amazing year and is now the World No 1 too.
"I think it is great to have some new personalities at the top of women's tennis. Let's hope they can stay there.
"I have said before that it is a pity players [of] today aren't more consistent. It seems they win an important match or event and then fade away for months. I'm not sure why that happens."
Kerber deposed incumbent Williams on Monday, who had ruled the rankings for 186 consecutive weeks, equalling Steffi Graf's record.
Only time will tell whether this is a watershed moment in the women's game but it is a refreshing one to see another player rise to the top and she did it in style, defeating this year's rival for the title, the tenth seeded Pliskova, 6-3 4-6 6-4.
It wasn't one way traffic for the second seeded German, who had to recover from 1-3 down in the decider against a player she had lost to in the final of the Cincinnati Open.
On this occasion, in the humid conditions, it was the big serving Czech, who eventually ran out of steam under the relentless play from the left-handed Kerber, as she scrambled around the baseline retrieving the seemingly irretrievable thereby forcing her opponent playa an extra shot and inevitably into errors.
"They have amazing match stats these days and Kerber ran far more than Pliskova in that match, which shows the pressure she was under," continued Maria Esther.
"It was a good match, one of the best women's finals we've had for a long time. Two new faces fighting hard. It was good."
This slideshow requires JavaScript.
---
Wawrinka takes men's title
On Sunday it was the turn of the men to play for the trophy when Stan Wawrinka caused an upset by beating Novak Djokovic on Arthur Ashe Stadium.
"The conditions were much better by Sunday. Friday and Saturday were unbelievably humid and hot which affected all the players a lot, I think," said Maria Esther.
"In the semis, [Kei] Nishikori certainly felt it when he lost to Wawrinka, and [Gael] Monfils must have done also since he behaved strangely in his match with Djokovic.
"He was criticised later for being unprofessional but it seemed to me he was trying to put Djokovic off his game, and it worked for a while.
"Wawrinka has turned into some sort of iron man, coming through very tough, physical matches, and he did it again yesterday, in the final.
"Djokovic called two medical timeouts to treat his toes, which were a bit questionable since the first was taken when Warwrinka was about to serve and not on the changeover.
"There are different rules out there for the Grand Slams and the tours so it gets very confusing for everyone to know exactly what is going on but it looked to me like he [Djokovic] was trying to disrupt Wawrinka's momentum because when he got back onto the court, he was running like there was nothing wrong!
"I think the rules should be the same for all events, at least for matches on the court, because the spectators need to be able to follow the game wherever it is played.
"Unfortunately we have so many governing bodies that this looks unlikely to happen but I think everyone should be working towards that so audiences stay involved."
It proved an emotional day for the Swiss player, who after nearly four hours emerged from the confrontation on Arthur Ashe Stadium as the champion of New York following a dramatic 6-7(1) 6-4 7-5 6-3 victory.
Wawrinka, for the third time in a Grand Slam, had brought the World No 1 to his knees despite fortune having favoured the Serbian throughout the fortnight.
The 31 year-old also enters the record books as being the oldest player to collect the title since the 35-year-old Ken Rosewall succeeded in 1970, and the first over 30 to take the title since Pete Sampras in 2002.
"It seems tennis champions are getting older these days," laughed Maria Esther. "Kerber is 28, I think, and last year we had two finalists over 30 [Flavia Pennetta and Roberta Vinci]."
Frustration turned to fatigue as Djokovic started to show that his lack of match play during the fortnight, perhaps wasn't such a good thing after all.
He had only completed three matches and been on court just eight hours and 58-minutes thanks to two retirements and one walkover.
In contrast his battle hardened adversary had endured 17 hours and 54 minutes of play and saved a match point against him in round three!
In the fourth Djokovic started to show signs of cramping as he again fell behind 3-0 in the opening stages.
Now cramping is not an 'injury' for which a trainer can be called but at 3-1 Djokovic did just that but drawing attention to blisters on his toes as the reason for the call.
The match stats spoke for themselves. The deposed champion only converted 3 of his 17 break point opportunities and a 46-30 unforced error to winner ratio and, while Wawrinka committed 51 unforced errors, he hammered 46 winners past the Serb.
"Wawrinka started slowly and just got stronger and stronger as the match went on," said Maria Esther. "He is a big match fighter and deserved his win.
"Rather like with Serena, players are beginning to believe Djokovic can be beaten. He has not had a good year, nor has Serena, but such dominance can'y go on for ever and it makes for more interest when others come through."
This slideshow requires JavaScript.
---
Thoughts on 2016 US Open
And finally, before leaving the Big Apple, what are Maria Esther's thoughts on the 2016 US Open?
"Thoughts go to that terrible day, 9/11, fifteen years ago," she said. "The anniversary was on Sunday and everyone remembers what they were doing that day as if it was yesterday.
"It is very hard to believe that is was fifteen years ago. Very sad.
"The US Open held a minute's silence and put the date on the court, which was a good touch."
---
This slideshow requires JavaScript.
---
"It has been a very good Open, I think. Lots of surprises, some really great matches and, of course, the new roof over the [Arthur Ashe] stadium that was used quite a lot in the end.
"The new Grandstand court was very popular and it is easy to see why because it is a beautiful, intimate court with all the facilities close by. Spectators loved it!
"It was very hot and humid, which it makes it a real challenge to come through and in the end the two toughest made it.
"It was a very good Open for me personally too, being recognised several times in the stadium and, of course, at the Final 8 Dinner last Wednesday.
"I am always warmly welcomed by the USTA people, which I really appreciate, and this year Katrina [Adams, USTA President] made it very special for me.
"We had fun in Rio during the Olympic Tennis Event there and it is amazing to me that while I have been away, my stadium has been in action again for the Paralympics.
"I saw David Haggerty [ITF President] and he was heading back to Rio for the finals of tennis and now I am now flying back to see the end of those Games and to work the Davis Cup between Brazil and Belgium over the weekend.
"It's all go these days!"